Sherone Simpson: Jamaican sprinter denies being drugs cheat
Last updated on .From the section Athletics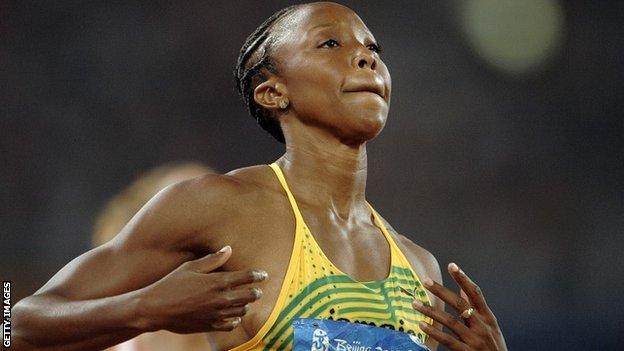 Olympic sprinter Sherone Simpson told a Jamaican disciplinary panel on Tuesday that she was not a "cheat" and never intentionally took a banned substance.
The 4x100m relay silver medallist in London blamed a positive drugs test on a supplement provided by her trainer, Christopher Xuereb.
Simpson, 29, said: "Nothing I read raised a red flag or an alarm bell."
She was one of five Jamaicans to test positive at the national championships in Kingston last June.
Simpson and her training partner, former 100m world record holder Asafa Powell, tested positive for the stimulant oxilofrine.
Discus throwers Allison Randall and Travis Smikle, along with a junior athlete, also tested positive for banned substances at the same meet.
Simpson claimed that one of six supplements provided by Xuereb was responsible for her "devastating'' positive test and said she had researched the "Epiphany D1'' supplement for up to 14 hours online before starting to take it.
"I trusted Chris,'' she told the panel. "I invited Chris into my very small circle.''
She acknowledged that she did not disclose the new supplement on doping control forms.
Xuereb has said he did not give Simpson and Powell any performance-enhancing drugs and only purchased major-brand vitamins.
He claimed in July that "both athletes are clearly looking for a scapegoat".
Lester Robinson, a lawyer who cross-examined Simpson for Jamaica's anti-doping agency, argued that she was "significantly negligent" in taking a new supplement without first consulting a doctor or anti-doping and athletics officials.
Robinson noted that Simpson testified she was on seven supplements prior to meeting Xuereb in May, adding "there is not sufficient evidence to support the respondent's assertion regarding the source of the prohibited substance".
Simpson testified she heard about her positive test in July while at a Jamaican training camp in Italy and phoned her agent Paul Doyle, who also represents Powell.
She claimed Doyle said they needed to contact the World Anti-Doping Agency and a raid of the hotel was quickly organised.
Supplements were seized and the two sprint stars and Xuereb were formally placed under criminal investigation in Italy following the raid.
Simpson's hearing before the disciplinary panel is expected to last at least two days.
Powell and Doyle, both listed as witnesses in Simpson's case, are also attending the hearings this week. Powell is expected to face another disciplinary panel on 14 January.