Lee McConnell returns to training nine weeks after new baby
By Lisa Summers
Commonwealth Games reporter, BBC Scotland
Last updated on .From the section Athletics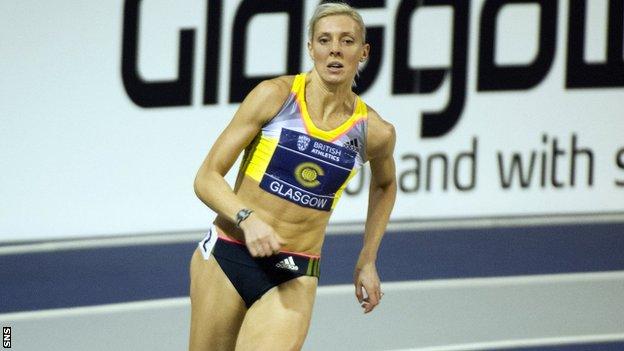 Scottish athlete Lee McConnell has taken her first steps towards competing in the Commonwealth Games following pregnancy.
The 35-year-old trained in Glasgow on Tuesday for the first time since having a baby just nine weeks ago.
The 400m runner is hoping she can regain fitness quickly enough to make the Scottish team.
"If the Commonwealth Games weren't in Glasgow then I wouldn't contemplate trying to get back," she said.
"But I was born and raised in Glasgow and I still live in the city so it'd be a shame to miss it.
"It's going to be a challenge. I haven't set myself any time targets or anything like that or a deadline as to whether to make the decision or not.
"The plan is just to come back gradually, not put any pressure on myself and I think only time will tell if it's going to be manageable or not."
McConnell won a Commonwealth Games silver medal in the 400m in 2002 and picked up a bronze four years later when switching to the 400m hurdles.
She finished a disappointing fifth in the final of the 200m and fourth in the 400m in Delhi in 2010.