Jessica Ennis-Hill: Could pregnancy make her better?
By Luke Reddy & James Gheerbrant
BBC Sport
Last updated on .From the section Athletics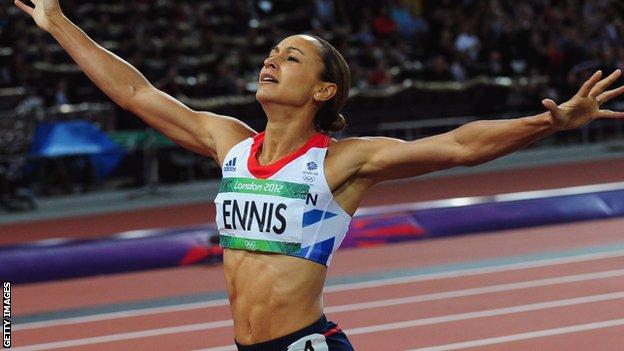 From the cold mornings on the training track to the moment she crossed the finishing line in a delirious Olympic stadium, Jessica Ennis-Hill's glorious heptathlon gold at London 2012 was a masterpiece of careful planning and meticulous preparation.
But not even Olympians can be prepared for everything.
The news of Ennis-Hill's pregnancy, announced on Friday, was the most joyous of surprises, but amid the deluge of congratulations, there were plenty of questions.
Will we see Ennis-Hill back on a running track again? Does she have another moment of Olympic glory left in her? And could she come back better than ever?
BBC Sport takes a look at the challenges Ennis-Hill faces during pregnancy, the possible effects of motherhood and her prospects of a successful return.
Nine months of physical change
Despite being a global sports star who trains twice a day, Ennis-Hill will not escape the average 26lb weight gain pregnancy serves up, but the early stages of time spent carrying her first child should, theoretically, offer the opportunity to push her body even harder in training.
"The first trimester of the pregnancy will prove very positive for athletic performance," said Greg Whyte, professor of applied sport at Liverpool John Moores University.
Increased red blood cell count and blood volume should help boost the Sheffield-born star's oxygen reserves, although world record-holder and mum-of-two Paula Radcliffe said she suffered from a tiredness in pregnancy far worse than any she experienced while marathon running.
Morning sickness, back ache, swollen ankles, volatile emotions and other frustrations may impact on Ennis-Hill during pregnancy, but she will be monitored by a large support team.
"Essentially, there is no negative effect to pregnancy for an athlete whatsoever as long as she has the right structure in place to return to full fitness," said Whyte, who has assisted the likes of Eddie Izzard and David Walliams in training for Sport Relief challenges.
"As the foetus develops, it becomes an issue late in the second trimester as this adds weight and pressure to the pelvic floor, but, even then, she can be active and train.
"Hormonal changes can also make joints less stable late in the pregnancy, but her training will be adapted accordingly."
To train or rest?
"I may give her a day off to have the baby, but that's pretty much it," quipped Ennis-Hill's long-term coach Tony Minichiello.
Radcliffe was notorious for long training runs during her pregnancies and ran 12 days after giving birth to her first child, while former British 400m runner Katharine Merry, who is expecting her second child, believes training ahead of the birth provides a smoother transition to a return to action.
Ennis-Hill, who turns 28 later in January, could be back in competition by March of 2015 at the European Indoor Championships in Prague, according to Minichiello, with the World Championships in Beijing in August next year another goal.
"The first two months after birth is when we have to be careful," he added. "Her training has not changed at all yet - she's been training fully - but that will change as we get closer to the birth."
Britain's six-time Paralympic cycling champion Dame Sarah Storey, 36, trained up until the birth of her daughter in June and returned to the bike six weeks later, having recovered from an emergency caesarian section.
"So much of what Jess does is high impact, which is more of a challenge than for an endurance athlete like me," she said.
"The muscles in the stomach will stretch and the javelin and shot put rotations won't be good for her abdomen when she gets bigger. There will be technical things she can do, but she may have to reinvent what she does from a conditioning perspective."

A boost from pregnancy?
Athletes and coaches are always searching for that extra ingredient to boost performance levels.
Going through a pregnancy may not be what Ennis-Hill anticipated at this stage of her career, but there are those who believe the nine-month journey offers opportunity.
"It's kind of a poorly kept secret that a lot of times after you have a baby you actually come back better," says American high jumper Amy Acuff.
She was part of a high-jump field boasting four mothers at the 2012 Olympics in London, with Russia's Anna Chicherova, who gave birth in 2011, eventually taking gold.
"I think motherhood changes your brain and how you think," added 38-year-old Acuff, who was joined by 12 other mums on the USA team at the London Games. "It allows you to multi-task a lot more."
The benefits to an athlete are not purely mental. Blood doping - an illegal means of increasing an athlete's red blood cell count to gain a physical edge - has been a scourge in many sports, but a similar process occurs naturally during pregnancy.
"There are tragic stories of some Eastern Block athletes being forced to get pregnant purely to benefit from the hormonal changes their body would go through," added Whyte, in reference to an alleged practice known as 'abortion doping'.
"Almost throughout the entire pregnancy there will be an increase in red blood cells and blood volume. This stops when the child is born but these are fantastic performance-boosting changes to her body.
"Fundamentally, there is no reason why Jessica won't come back stronger and she can be very active until late in her second trimester."
After setting a British and Commonwealth record to win gold at London 2012, injury prevented Ennis-Hill from competing at last year's World Championships. After child-birth, the Sheffield-born athlete will have had at least 18 months away from competition.
"She's highly motivated towards Rio," says her coach Minichiello, who was "surprised but wonderfully happy" at learning his athlete's news.
"This period of time off might actually lengthen her career with the World Championships in London in 2017, the Commonwealths on the Gold Coast in Australia in 2018. There is always a championship year."
Clearing the mental hurdles
Pregnancy is a time of considerable upheaval in any life, but in the disciplined world of an Olympic athlete with a mind that thrives on repetition and routine, the prospect of sleepless nights and shifting priorities can be a difficult obstacle to overcome.
Rower Anna Watkins won gold at the London Games and has since given birth to a son. While she retains hopes of competing in Rio, she says it can be hard to recover the same single-minded approach that led to Olympic glory amid the distractions of motherhood.
"I'm in the position that Jess will be in, where you've got the baby and you're loving that side of things and you're trying to weigh up what's possible and what's not possible," Watkins explained. "She'll have the same dilemma that I have: what's worth the sacrifice?"
But Ennis-Hill's fellow heptathlete Denise Lewis, who returned to competition after her first child, says motherhood does not diminish an athlete's competitive desire. "I was absolutely clear that I wanted to return to competing because that's the life that I'd known," said Lewis. "I still felt within my heart that I wanted to compete."
Dr Brendan Cropley, performance coach at Cardiff Metropolitan University's School of Sport, says as long as Ennis-Hill retains her focus during her break from the sport, she could come back better than ever.
"She needs to enjoy the pregnancy before she returns, not get stressed out about coming back too quickly," he said. "She has already proven she can come back [from injury], so as long as her goals are clear, she can do the same again.
"The disciplined mindset she has garnered will help her cope, and there's no reason why she can't be stronger mentally in the long term. It may increase her desire to achieve in the sport."
A global superstar?
Picture the scene. Ennis-Hill wins the heptathlon at Rio 2016 to secure her second Olympic gold and underline her status as the world's supreme all-round female athlete. She takes the acclaim of the crowd, drapes the Union Flag around her shoulders and then gathers her child in her arms. An image of athletic excellence and maternal warmth rolled into one.
That picture, beamed around the world, would instantly turn Ennis-Hill from a figure of female admiration to one of inspiration, argues branding expert Louisa Clarke, from the Caffeine Partnership.
"By becoming a mum, Jessica becomes much more relatable to a wider audience," she explained. "If she can combine athletics and motherhood and continue to win at a high level, I think we'd all be inspired by that."
From the face of London 2012 to the poster girl for mums everywhere, it's a transformation that would catapult Ennis-Hill to superstardom, according to Clarke.
"If Jessica returns from maternity leave and wins gold at Rio 2016, that's a great comeback story," she said. "Typically, female athletes don't have strong international profiles, but the global stage of the Olympics, plus a great story, could equal stratospheric fame."