National Open: Jamie Bowie sets new personal best at 400m
Last updated on .From the section Athletics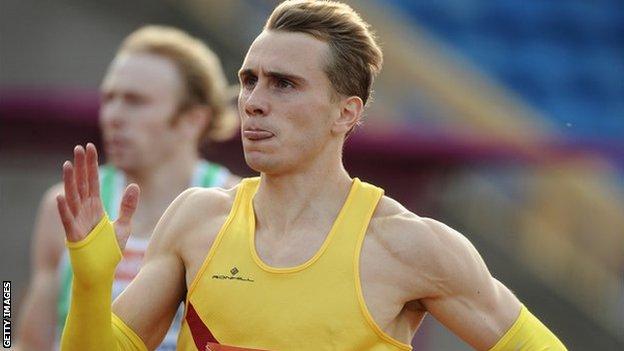 Inverness athlete Jamie Bowie recorded the second-fastest Scottish men's indoor 400m run of all time at the National Open in Glasgow on Saturday.
His time of 47.09 seconds over two laps at the Emirates Arena was the best since Brian Whittle's 45.98 in 1988.
"I've had a few personal bests in the past 12 months and it helps confirm that you are doing the right things," said Bowie, 24.
"I'm supported by British Athletics and the National Lottery. That's helped."
Bowie's previous best time indoors had been 47.65, which he set in Sheffield.
He continued: "My (Polish) coach, Piotr Haczek, is back in Scotland full-time now and that is another big factor in this.
"I've good training partners, physio support and all the little things can make a difference for you.
"I'm looking forward to next week and competing for Scotland in against GB, United States and the Commonwealth Select.
"I ran a domestic 400m once in the Kelvin Hall maybe five years ago, which was on shortly before the full meeting started.
"The arena was packed then and the atmosphere great but next week will be something special with 5,000 people inside the Emirates.
"It will be two very challenging races when you look at the 400m field and the fact the Bahamas, who are the 4x400m Olympic champions, are coming for the Commonwealth Select. It's exciting for everyone."
Bowie's fellow Scotland internationals Claire Gibson, Jayne Nisbet, Guy Learmonth and Sarah Warnock were also in action in the National Open, an event that offers competitive early season opportunities for elite and age-group athletes.
Kilbarchan's Gibson registered a time of 2:04.81 in the women's 800m.
"I've trained here before but not raced and I'm pretty happy with that run. It is faster than I ran outdoors all last season," she said.
"Now I am coming back to the Emirates to represent the Commonwealth Select and can't wait to feature in the Glasgow International.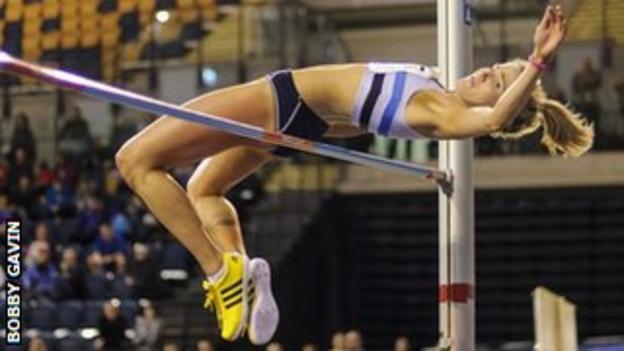 "I feel in good shape and the National Open was ideal in that sense to prove it to myself. It felt quite comfortable and it should be a great women's 800m race next week with Laura Muir in there for Scotland.
"After that meeting I am headed to Australia for 10 weeks. The Commonwealth qualifying time is 2:02.80 and I will chase that in the Athletics Australia Series.
"Being there gives me a little longer because five weeks in the outdoor season here might not be long enough."
Lasswade's Learmonth came up with his best career-season opener with 1:49.65 for the men's 800m and Cameron Boyek ran well in the 1500m in a Central vest in a time of 3:46.63.
In the women's long jump, Warnock started her season with 5.92m and her Edinburgh AC team-mate Nisbet cleared 1.80m in the high jump.
Diane Ramsay of Victoria Park-Glasgow achieved a personal best in the women's 400m as she recorded 54.25 in a race in which Gemma Nicol dropped out injured.
Aberdeen's Stephen Dunlop edged out Ryan Oswald in the men's 60m sprint with Dunlop 6.96, Oswald at 7.00 with Ross Maxwell in third at 7.05.
Roger Skedd was the best performer in the 60m hurdles with 8.31 ahead of Chris Baillie, while Allan Hamilton was best in the long jump at 7.44m from John Carr's 7.38m.