Lynsey Sharp to receive Euro gold medal in Glasgow
Last updated on .From the section Athletics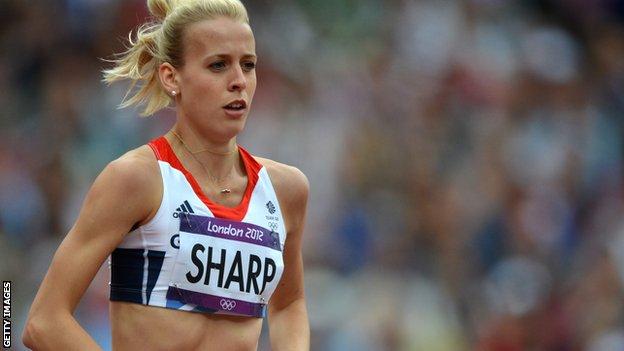 Lynsey Sharp will finally be presented with her 2012 European Championships 800m gold medal at the Glasgow International Match on Saturday.
"It will be a very special moment for me, my family and my support team," said the 23-year-old.
"It will be even more special on home soil, in front of a home crowd."
Arzhakova's ban also meant Sharp moved from bronze to silver position in the 800m at the 2011 European Under-23 Championships.
"When I was first told about my upgrade, my reaction to the news was a mixture of disappointment, satisfaction and elation," added the Edinburgh AC athlete.
"I was disappointed that another athlete has been discovered breaking the rules and that I was denied the chance to hear my national anthem played in the stadium. But I'm pleased that the system is working, that the athlete in question has been caught."
Sharp has been sidelined by long-term injury but hopes to prove her fitness in time for this year's Commonwealth Games in Glasgow.
She added: "It's a great way to start 2014. With my injury rehab going well, I'm aiming to be fully fit for the Commonwealth Games in July and to defend my European title in Zurich."