Olympics 2016: Mark Lewis-Francis targets Rio Games
Last updated on .From the section Athletics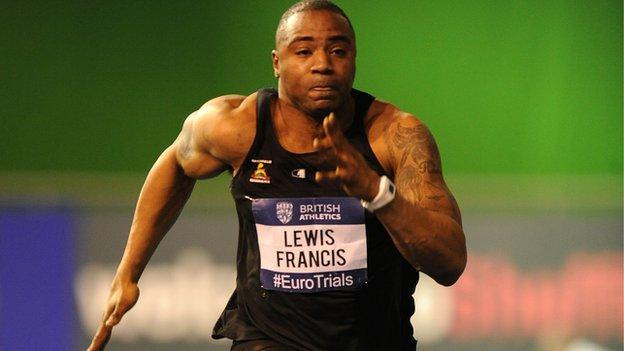 Mark Lewis-Francis is targeting the 2016 Olympic Games in Rio, 12 years on from winning a relay gold in Athens.
The 31-year-old Birmingham sprinter has begun a new training regime with his club Birchfield Harriers.
"This is a fresh start for me. There's no better to place to rekindle my love for training than the place where it all began for me - at home," he said.
"I have returned back to Birmingham, from London, to make sure I can be the best I can be on the track."
After helping Marlon Devonish, Darren Campbell and Jason Gardener with a stunning last leg to beat the United States to the gold in Athens in 2004, Lewis-Francis was part of another gold-medal winning relay team six years later at the Commonwealth Games in Delhi, where he also won silver in the individual 100m final.
But a leg injury kept him out of the London 2012 Olympics.
"My dreams of competing in London 2012 were shattered because of an injury to my leg," he said.
"I was absolutely devastated but it has made me more determined to succeed and make sure I don't miss out on the next Olympics.
"I feel revitalised and back in shape and more than anything pleased to be returning back to Birmingham.
"The Jamaican athletes held their training camps in the city and, if it was good enough for Usain Bolt, then it's good enough for me too.
"I believe that being closer to my friends, family and kids will help spur me on to get back to my best ever form.
"I have been genuinely moved by the welcome that I have received from my club Birchfield Harriers since making the decision to return.
"And I intend to spend as much time as my training will allow with aspiring athletes at the club - giving something back to the sport that I love."
Lewis-Francis is due to make his next return to the track at the Cardiff Grand Prix on 2 February.