Athletics: Chris O'Hare seeks no substitute for hard graft

By Keir Murray
BBC Sport Scotland
Last updated on .From the section Athletics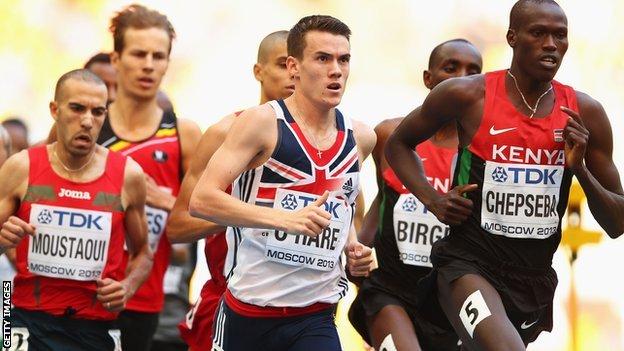 "There's no substitute for hard work and dedication." That's the motto Chris O'Hare uses to guide his life an athlete.
If that conjures images of a dull, slavish character then it does the 23-year-old 1500m runner a disservice.
The man from West Linton in the Scottish Borders is focused and determined, certainly, but he's also an engaging personality.
"That motto got me this far and will hopefully carry me onward," he says.
"I need to step it up even more but not to the point where I am hurting myself."
Then, with comic timing, he adds: "I just need to lay off the kebab and chips and all the wonderful Scottish treats that I have missed so dearly."
O'Hare is back home after four and a half years at the University of Tulsa in Oklahoma, where he graduated in sports science and kinesiology.
"Tulsa was the best choice for me, athletically and academically," he says.
"I am very grateful to have had the opportunity to go out there."
On Saturday, the British champion will race for Scotland against the USA, Great Britain and Northern Ireland and a Commonwealth Select at the British Athletics International Match at the Emirates Arena in Glasgow.
He says it means "a huge amount" to wear Scotland colours, especially with the Commonwealth Games on the horizon.
O'Hare has already met the qualification standard for Glasgow 2014 and was among to be named in Team Scotland in September.
"I raced in a Scotland vest last summer because I was running unattached, which means you don't represent the university," he explains.
"It was fantastic to get that national pride back in me. Racing in the Scotland vest anywhere feels fantastic.
"To be representing Scotland in Glasgow is just going to be amazing."
O'Hare began competing at a young age. He was in primary five and the Three Bridges event in Peebles was for older children.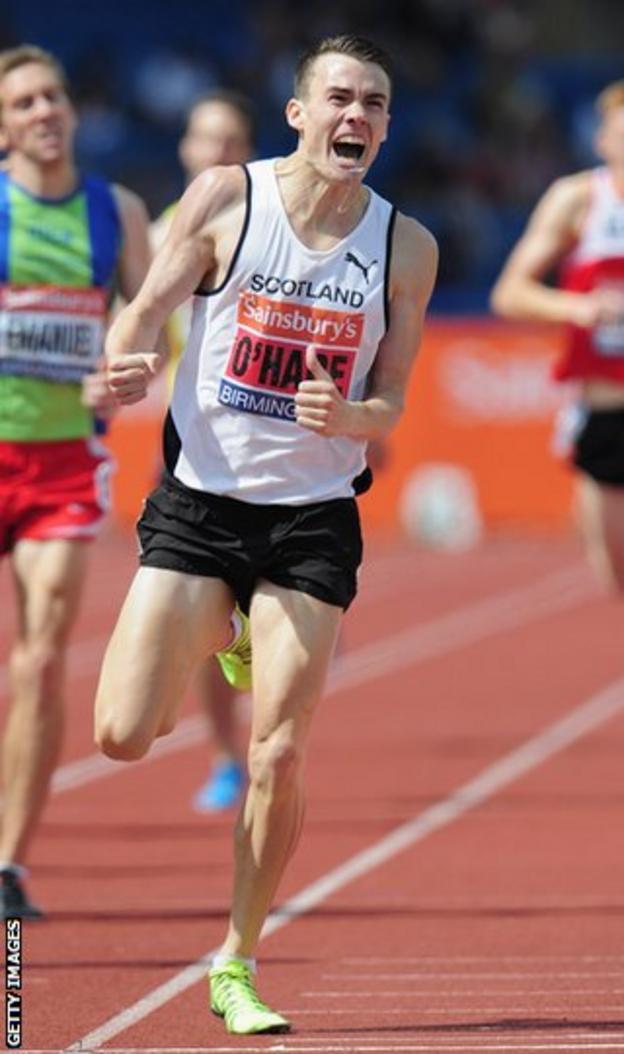 His mum asked the organisers to let him run, assuring them that he could hold his own. He finished third.
Thereafter, he trained with Charlie Russell in Innerleithen until the coach retired, and was then developed by Dave Campbell in Edinburgh before leaving for Tulsa.
Last year was one of highs and lows for the athlete.
In February, he broke David Strang's record, set in 1994, to become the fastest Scot for the indoor mile with a time of 3 minutes 52.98 seconds at the Millrose Games in New York.
But three months later he picked up a hamstring injury and had to endure the stress of recovering before the season finished in August.
"I was pushing myself too hard," he admits.
"Athletes' worst enemies are themselves. You are on that knife edge all the time. You end up reading a tweet or seeing something on Facebook or TV and an athlete has had a good race and you think 'I need to work harder'.
"It's a good trait but you've got to keep the reins on it and I didn't keep my reins tight enough.
"I did my fourth work-out that week and my hamstring packed in on me. I had to take two weeks entirely off running and it was another three weeks until I was back fully training.
"Five weeks out in the summer season isn't ideal but I managed to piece it together and in the long run it helped me prolong my season."
He got himself "somewhat fit" and raced in Sweden, Birmingham twice and Belgium, where he recorded a personal best of 3:35.27, in just over a month as he tried to cement a place in the World Championships in Moscow.
"It was a strenuous five weeks leading up to the trials," he recalls.
"I had the B standard. If I didn't win the trials I wasn't going. It was as simple as that.
"Second place wouldn't be good enough. That added a lot of stress; that was a low point. I had to sink my teeth into it and make sure I won."
Indeed, he did win but he could barely savour the moment for thinking about Moscow.
"You do have to sit back sometimes and think 'I'm the British champion'. That's something in itself," he says.
In Russia, he finished fourth in his semi-final, clocking 3:43.58, but the final was disappointing. His time of 3:46.04 left him in last place.
After the race he told the BBC: "Having a bad final was probably best for me at this point of my career.
"I can go home and not be complacent and work hard and make sure it never happens again."
That, of course, echoes his motto.
O'Hare will experience the backing of the Glasgow crowd at the Emirates on Saturday.
He insists being part of Team Scotland is special.
"I feel like I am part of something greater than an assembly of athletes," he says.
"It seems to be more of a family reunion."
Come Games time this summer, those in the stands at Hampden can assume O'Hare has prepared the hard way.