Lynsey Sharp receives Euro gold medal in Glasgow
By Jane Lewis
BBC Scotland at the Emirates Arena
Last updated on .From the section Athletics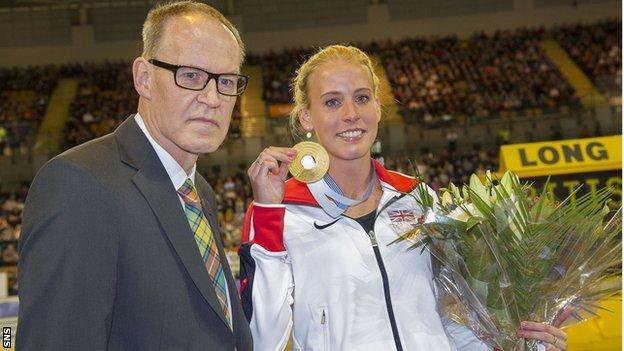 Lynsey Sharp was finally presented with her 2012 European Championships 800m gold medal at the Glasgow International Match on Saturday.
"I'm so thankful for everyone for making today really special," said the 23-year-old Sharp.
"I can't even describe it, I'll remember that forever."
Arzhakova's ban also meant Sharp moved from bronze to silver position in the 800m at the 2011 European Under-23 Championships.
"To look around and see everyone on their feet and the national anthem playing - so special," Sharp told BBC Radio Scotland.
"I thought it was the national anthem that would start me crying but I was already gone way before that."
Her gold medal was presented by her father Cameron, himself a European 200m silver medallist and Commonwealth gold medallist in the 4x100m.
"He's got a silver from the Europeans and I had a silver and we kind of had the same medal.
"Then when I got upgraded to a gold it was a bit sad because we didn't have the same any more, but I couldn't have thought of a better person to present me with it today."
Sharp has been sidelined by long-term injury but hopes to prove her fitness in time for this year's Commonwealth Games in Glasgow.
She added: "Even if I hadn't been getting my medal, I really wanted to come here and see what the crowd was like and enjoy the atmosphere - it's really special."