Glasgow 2014: Mother Lee McConnell in race to qualify

By Brian McLauchlin
BBC Scotland
Last updated on .From the section Athletics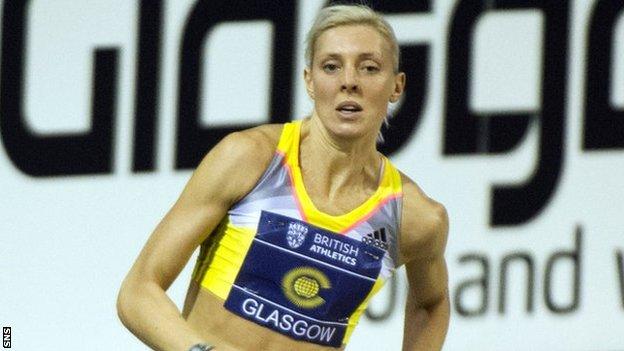 Scottish 400m runner Lee McConnell admits she is in a race against time to qualify for the Commonwealth Games after the birth of her son.
The 35-year-old is aiming to be back on the track in April but only has a short time thereafter to prove she is ready to compete in Glasgow.
"The start of June is when I will need the qualification time, which makes it quite challenging," she said.
"It is quite a tight time frame. I will need to be racing in May."
McConnell took silver at the 2002 Commonwealth Games in Manchester and bronze in Melbourne four years later.
"I would love to be competing at Hampden, but I'll be there regardless," she told BBC Scotland.
"I am not quite ready to race yet. I am gradually getting thrown back into training.
"I am starting to work quite hard and get back on the track. It is going okay - it is small steps.
"Hopefully, I'll keep progressing and we'll see around about April time if I'm ready to race come May and hopefully get the qualifying time ahead of the Commonwealth Games.
"The Games aren't until a little bit later, a couple of months later, so it would have been good if I had a bit more time on my hands to get the qualifying time.
"But these dates are set, they are the rules and we've got to play by them."
McConnell has also won medals at world and European level as part of British relay squads but admits that she is finding combining athletics and motherhood an additional challenge.
"It is hard," she admitted. "It's not so much the training or the motivation, it's more the organisation that goes around it.
"My wee boy Ethan, he's only 12 weeks old, so he's not quite sleeping through the night yet.
"He's doing well - he's sleeping until 5 o'clock - but I've still got that feed that I've got to get up for and things like that.
"So that makes a little bit more challenging. I'm not quite getting the rest and recuperation that I need between training.
"But I'm motivated and I'm enjoying being back on the track and we'll just need to see how it goes."