Paula Radcliffe wants one final marathon in London or New York
Last updated on .From the section Athletics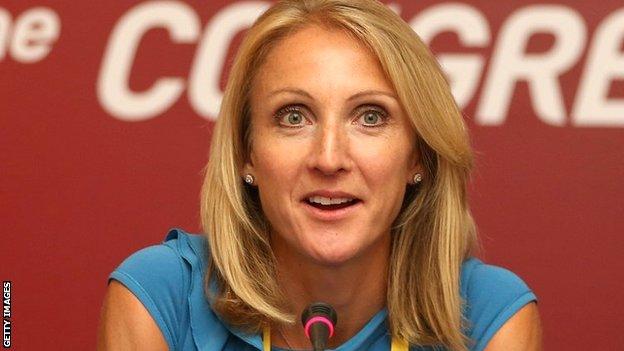 Britain's Paula Radcliffe has targeted one final appearance at the London Marathon and could compete in 2015.
A foot problem has plagued Radcliffe in recent years, and she was forced to withdraw from the 2012 London Olympics.
"This year in London is too soon but I'd probably only ask my foot to do one more marathon," she said. "If I had to choose, sentimentally, it'd be London."
Radcliffe, who won the world marathon title in 2005, has not competed in the London race since 2011 and has not run a marathon since finishing third in Berlin in September 2011, but is back training with the British team in Kenya.
"I'm not being unrealistic. I'm not thinking I can get back and run two hours 15 minutes but, if I could come back and run a sub 2:30 then I'd like to do it," she said.
"I would love to come back and run a marathon or even a half-marathon and just be able to finish my racing career on my terms.
"Very few people get to do that. I'd just like the chance."
Cheshire-born Radcliffe has also won the New York Marathon three times and added: "I will never say 'retire' but if I run one more marathon, I'd love it to be New York or London."
Mara Yamauchi, who holds the second fastest British women's marathon time, told BBC Radio 5 live: "I don't think she could get back to 2:15, her world record, but I think she might go out to win the race or do sub 2:20.
"Paula has this incredible ability to overcome physical pain and push herself to the limit. If physically her body is up to it I think mentally she is able to produce incredible performances when it matters.
"I'd be surprised if she didn't do London, she's a British athlete, it's where she set her world record - I think it would be difficult to resist London."