Steve Cram: British athletes to follow during indoor season

By Steve Cram
BBC athletics commentator
Last updated on .From the section Athletics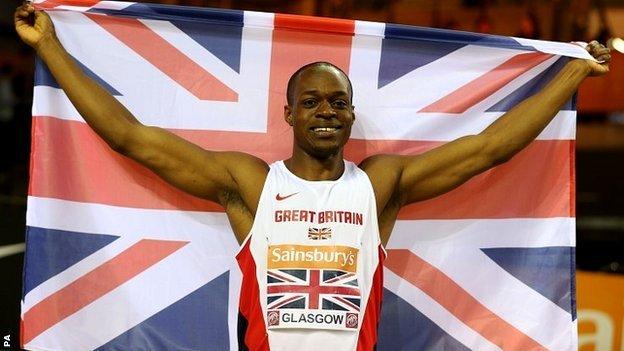 In his first column of the year, Steve Cram considers which British athletes might shine during the indoor season and assesses the benefits of training at altitude in Kenya.
The British Indoor Championships take place in Sheffield this weekend and British Athletics has clearly stated that athletes must compete if they want to run at the World Indoor Championships in Sopot, Poland next month.
We will find out what people's intentions are if they turn up in Sheffield.
For some athletes, indoor competition forms part of their season and for others it doesn't figure.
It tends to be the sprinters and hurdlers of the track disciplines, and the high jumpers and pole vaulters from the field events, who give the indoor season more of a push, and you often see the same faces competing indoors season after season.
I never ran indoors and I always get nervous when I see athletes compete at a couple of indoor races, do well and then decide to go to the World Indoor Championships.
The World Indoors have got to be part of your plan from the beginning and not something you dabble with just because you've run better than you thought you would. Competing indoors changes your training programme and changes the emphasis of your year.
It's really important for an athlete and coach to have a clear plan. They need to know what development stage they're in and the number of competitions they're going to compete in.
Whether or not an athlete competes indoors is a very personal thing. It depends on a lot of factors: did you have a big year last year? Were you injured in the summer? Did you start training early?
There are no hard-and-fast rules and everyone has their own way of preparing. Olympic 800m champion and world record holder David Rudisha, for example, is still recovering from injury, but he normally doesn't run indoors and goes to Australia in February and March to run a couple of outdoor races.
Competing indoors can be detrimental if you get it wrong, particularly if there are major championships in the summer.
Athletics is a sport where coming first, second and third is what it's all about and, ultimately, athletes are trying to get themselves into the right shape at the right time for the big competitions.
The indoors can be a stepping stone to a good season and, admittedly, winning indoors might boost an athlete's confidence for the summer.
But I've often seen people have a great indoor season and then nothing happens for them in the summer. That's what you want to avoid.
Britain should do well in Poland
We've got a few medal chances at the World Indoor Championships and there's no reason we shouldn't have a good championships.
Sprinter James Dasaolu looked good in the men's 60m in Glasgow last month and if he is targeting the World Indoors, which I think he is, then he looks sharp already.
On the flip side, Tiffany Porter - who is someone who has done well indoors over the past two seasons and won bronze at the outdoor World Championships in Moscow last year - hasn't, for whatever reason, been running well in the 60m hurdles.
Holly Bleasdale is performing well in the pole vault after a frustrating 2013 with injuries but the biggest revelation of the season is her fellow pole vaulter Luke Cutts.
Cutts broke a 12-year-old British indoor record last month with a 5.83m vault in France and came close to beating Olympic champion Renaud Lavillenie.
Luke is obviously a talented lad and we'll now see how he copes with expectation because he hasn't had to deal with that before and that's always a problem for athletes, particularly in technical events.
The women's 800m will be competitive at the British Indoor Championships because Jenny Meadows is set to compete in Sheffield. It'll be great to see Jenny back and she'll be up against Laura Muir, the 20-year-old who set a new Scottish indoor record at the Glasgow International Meeting last month.
I'll be in Sochi commentating on the Winter Olympics during the British Indoor Championships and the Indoor Grand Prix in Birmingham on 15 February.
It's a shame to miss Birmingham especially because it's always lots of fun but I will be keeping an eye on results and trying to watch the action if I can.
Training in the Rift Valley
It's been a busy few weeks for me, with a trip to Kenya. During my first week there, I was cycling for four days in Maasai territory for charity, climbing a total of 4,000m in altitude, staying out in the sticks and camping among the animals. It was fun.
Our mountain bikes took a battering on the hilly terrain, although if I told you the distance we covered it wouldn't sound impressive at all.
On the last day, it took nearly the whole day to cycle 30km but we were at altitude - up at nearly 8,000ft at one point - and it was tough.
I then spent the last week in Iten and that was also great. The training camp has been a big part of the endurance programme for people like double world and Olympic champion Mo Farah and a lot of our middle-distance runners for many years.
The town is in the country's Rift Valley Province and Britain's athletes are based at the High Altitude Training Centre, which is owned and managed by Kenyan marathon runner Lornah Kiplagat, who now competes for the Netherlands, and her husband, Peter Langerhorst. Just this week the new running track was officially opened in the town.
It's a well-established camp and there was an especially good atmosphere this year. A lot of hard work is being done and hopefully it'll pay off in the summer.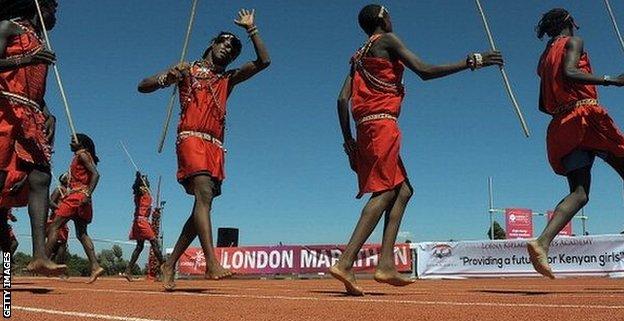 There's a good mix of athletes and the experienced ones are passing their knowledge on to some of the younger ones.
Athletes are in different stages of their training programme. I coach British 1500m runner Laura Weightman and she's been there since 2 January and has been training with steeplechaser Eilish McColgan.
But everyone is using the camp in different ways. For example, some athletes went out in October and have now started racing, whereas others are using it as a bigger part of their winter preparation. Altitude training is a big part of what endurance athletes do now.
Coaches & athletes learn from rivals
There were plenty of the British team's rivals training in Iten, too, as a few other national teams use the camp.
One day I was watching Kenya's Asbel Kiprop, the 1500m world champion, putting himself through one big training session and it was nice seeing guys training in their own environment.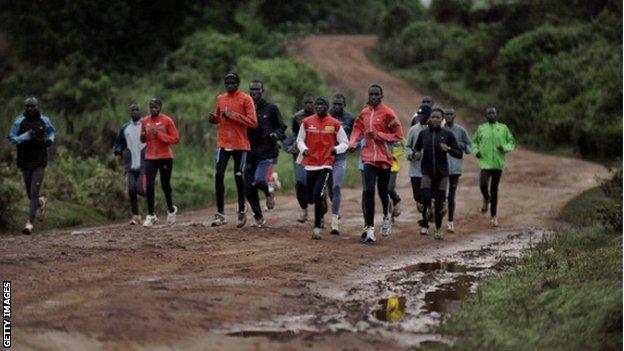 Wilson Kipsang, the marathon world record holder, was out there too. It's a good place to be in January.
From the athlete's perspective, it's beneficial to be close to this kind of quality of athlete and see the hard work they go through. It proves they're not superhuman.
There's also a lot of chatting and exchanging ideas between the coaches. We learn from watching the Kiprops of this world because you watch and pick up ideas, chat about it and, some way down the line, you might work it into someone's programme.
It's a good learning process for athletes and the coaches alike.
Steve Cram was talking to BBC Sport's Aimee Lewis