Jenny Meadows on the comeback after 'physical & mental' torture
Last updated on .From the section Athletics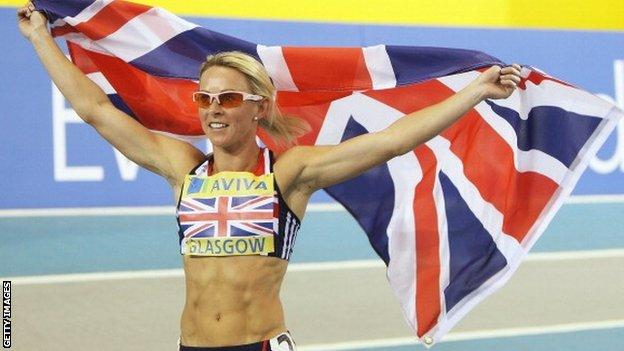 For the last two years Jenny Meadows has felt as if she has been dangling from a precipice by her fingertips, desperately clinging onto her career and dreams while boulders of bad luck and misfortune were thrown her way.
First came the major injuries, one after the other, striking at her Achilles and then her thigh bone, but the 32-year-old hung on.
Then there was the phone call, or the "kick in the stomach" as the 2011 European Indoor champion describes it, informing her that British Athletics would no longer fund her pursuit of medals and, just when the middle-distance runner was dragging herself back to contention, she was pushed to the brink once more.
The sponsored car has now gone, as has the "nice" second motor, the Team GB funded trips to warmer climes and the monthly wage which was part of the package are now no more.
Meadows admits she has shed the occasional tear and reached for a tub of chocolate spread during the last two "turbulent" years, but with her first competitive race since last February just days away the Wigan athlete is learning to manage the return of once familiar emotions: nerves, excitement, butterflies.
"My career was being taken away from me," says Meadows, who is preparing to complete her comeback from a stress fracture to her thigh bone at this weekend's British Indoor Championships in Sheffield.
"I was hanging onto the edge of the cliff but thinking 'no, I won't let it be pulled away, I'm going to hang on' and now I'm fit, healthy and positive 2014 can be a good year. I'm back on top of that cliff again.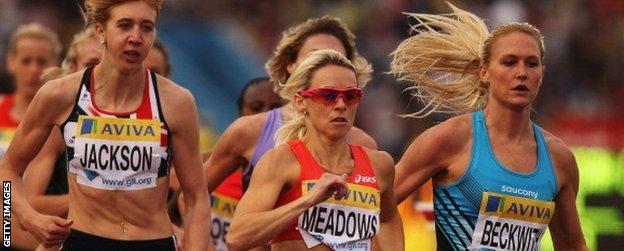 "I'm very resilient and it's a good job that it's a natural trait of mine. It doesn't matter what I do, even if it's cleaning the kitchen, I'll do the best job that I can."
It was back in January 1989 that a seven-year-old Meadows first joined an athletics club and for the 23 years which followed the 800m runner remained injury free except, she says, for a few insignificant niggles.
But then came 2012, the year of her home Olympics. The year she tore her Achilles.
Meadows missed out on experiencing the joy of competing before 80,000 fervent, patriotic British fans. Indeed, Britain's golden summer passed her by as she "detached" herself from the bonhomie and the buzz for her own protection.
The Briton plumbed new depths, however, reaching the lowest of her lows last summer when, having recovered from the Achilles injury to hit the "best shape" of her career, she injured her thigh and was ruled out of the World Championships in Moscow.
"When the second injury came I felt so sorry for myself," says the 2009 World Championship bronze medallist.
"I was running brilliant 800m sessions and was very excited about the year to come.
"I was in my living room watching the World Championship final and I knew every move I would have made. It was the first time I've watched a world championships and thought 'I could have won that'.
"I could have, and should have, been the world champion. Eunice Sum of Kenya won in one minute 57.38 seconds, which was a very realistic time to run."
At least during the comebacks and the setbacks there were no financial stresses, no sleepless nights worrying about paying the bills. That all changed last November when the runner lost her £26,000 lottery funding for the 2013-14 season.
Meadows remembers tearfully walking up the stairs to her bedroom upon learning of British Athletics' decision. She was in shock, she says, but insists she has never contemplated throwing in the towel despite having to rely heavily on the funding in the absence of prize money.
"I felt I had to give it a go, give myself another shot," she explains.
"Trevor [her husband and coach] and I decided we couldn't do it half-heartedly so we agreed to put up with a tough 12 months and if I ended the year with three medals it will have been worth the sacrifice."
The sanguine Meadows is keen to emphasise she is luckier than most thanks to the sponsorship, ambassadorial roles and commercial work which have allowed her to fund a two-week January training camp in South Africa and ensured her back-up team are still by her side.
There have been difficult times, plenty of them, but sometimes adversity has its positive spin-offs and this version of Meadows is a stronger and more fearless one than the athlete which ran around the track before 2012.
"I appreciate the days when I'm fit and healthy and I've come to enjoy the training sessions," she says.
"I look forward to them, I attack them, whereas I used to think 'oh my goodness, I've got these awful sessions coming up'.
"I've got such a positive mindset and I'm not scared of training sessions anymore and that mindset has created some really good sessions.
"I'm not in the sport to please people anymore, to please selectors, please funders. I owe something to myself now.
"I'm on the track to work hard and give myself some reward for all the physical and mental torture I've put myself through."
Meadows has set herself the target of returning from next month's World Indoor Championships and the summer's European Championships and Commonwealth Games with medals, although the colours of which will remain a secret until, or if, the deed is done.
She describes the last six weeks as "messy" because of a Christmas bout of flu and a "minor" calf strain yet remains confident about the season ahead, before adding that there's only so many blows even she can absorb.
"I don't need any good luck, I just don't need any more bad luck," says Meadows, still managing to laugh at it all.
"Obviously the financial stress will ease once I get back to competing and actually earning some prize money, that's something I've not done over the last two years.
"I keep saying if a major injury happens again I can accept it and hold up my spikes and say 'I'm doomed. I can't do anymore'. I don't think I could physically or mentally go through that.
"Nothing else can go wrong or Team Meadows will definitely be out of business, but I don't want to dwell on that. I know if I was a cat I'd be on my eighth life but how unlucky can someone be?"