Hampden to host London Diamond League meeting
Last updated on .From the section Athletics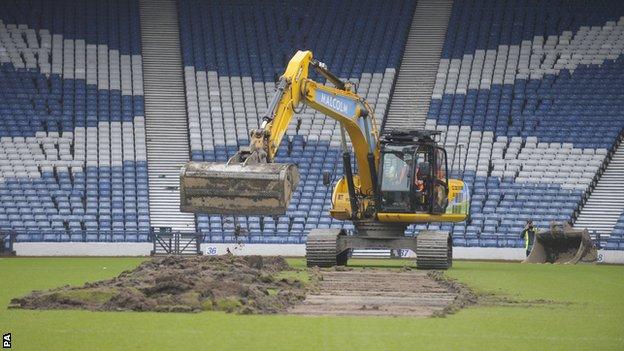 Hampden Park in Glasgow will host the London leg of the IAAF Diamond League, UK Athletics have confirmed.
The 11-12 July meeting will see some of the world's top athletes compete two weeks before the Commonwealth Games.
Hampden has replaced the Olympic Stadium in London, which is undergoing major refurbishment work.
Paris hosts the Diamond League meeting on 5 July before attention switches to the Sainsbury's Glasgow Grand Prix.
Tara Hewitt, head of sponsorship, said: "As part of our new long-term relationship with British Athletics we're delighted that the 2014 IAAF Diamond League is coming to Glasgow."
And Scottish 400m runner Lee McConnell added: "It's brilliant that the Diamond League's coming to Glasgow, it's really exciting.
"The Diamond League is the next stage down from the major championships. This is where the top athletes are going to compete throughout the summer season. They go head-to-head, every country's involved in it.
"It would be brilliant for Scottish athletes if there are some lanes or places available for them to get in there, experience the home crowd, experience the procedures that are going to be in place - a really good learning curve for them ahead of the Commonwealth Games.
"It's also a great test event for all our officials and our volunteers. It means there's a better chance that the Commonwealth Games will certainly run smoothly."
And McConnell believes the Diamond League event will prove to be a "nice warm-up" for Glasgow 2014.
"The Diamond League is a really important event to athletes but there's no medals to be won there," she explained.
"The prize money [in the Diamond League] is great. Obviously, it helps athletes fund their career.
"It's at the Commonwealth Games, the World Championships, European Championships and the Olympics; they're the events that matter to the athletes the most because they're the ones they win the medals at.
"I definitely don't think it will take the shine off the Commonwealth Games, it will just enhance it."
The opening ceremony for the Commonwealth Games will be staged at Celtic Park on 23 July, with Hampden hosting the athletics events and the closing ceremony on 3 August.