British Indoor Athletics: Chambers' time has passed - Dasaolu
Last updated on .From the section Athletics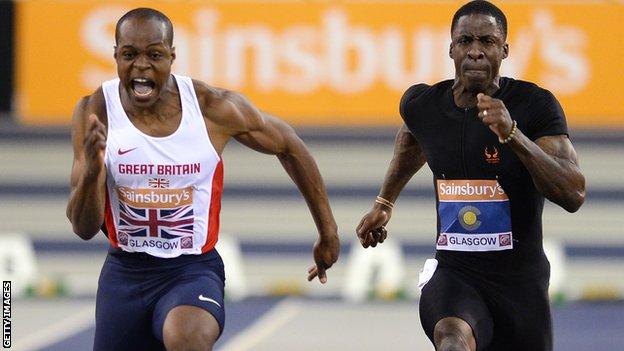 James Dasaolu believes Dwain Chambers' time as a force in British sprinting has been and gone.
The pair meet in the 60m at the Sainsbury's British Athletics Indoor Championships in Sheffield on Saturday.
Dasaolu, 26, will go into the race as defending champion and beat Chambers, 35, in Glasgow last month.
"I think the time may have come where he's not going to be so much at the forefront of British sprinting any more," Dasaolu said.
"It's not down to me to write anyone off, because you get the likes of (37-year-old) Kim Collins, who's still run 6.55, but there will be other names coming through."
Dasaolu's 60m time of 6.50 seconds last month placed him second in the world rankings, while he is also second in the all-time British 100m rankings after running 9.91 seconds last year.
"I think the sport's moving on and we are progressing. Adam (Gemili, Dasaolu's training partner) is second on the all-time list in the 200m, I'm second on the all-time list for 100m, you've got kids like Chijindu Ujah or Sean Safo-Antwi, so there's a lot of other promising juniors coming through.
"Sprinting's looking very promising so we don't have to rely on the likes of Dwain to take the mantle any more, with all respect to him."
Chambers, who is a five-time British champion, is ranked only joint fourth in the 60m Britain this year with 6.61, behind Safo-Antwi and Rion Pierre and level with teenager Ujah.