Amy Foster seals place at World Indoors after Athlone win
Last updated on .From the section Athletics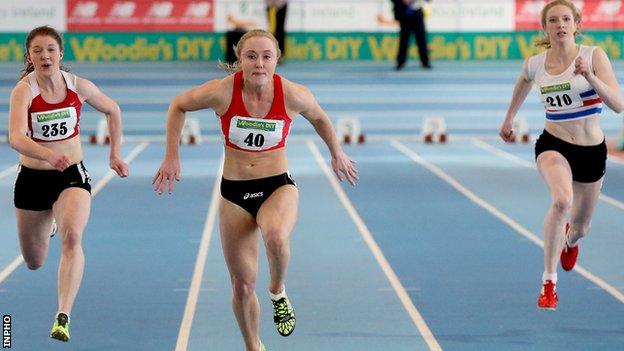 Amy Foster has qualified for the World Indoor Championships after setting a personal best in winning the 60m at the national championships in Athlone.
The Lisburn sprinter, who clocked 7.32, is now considering whether to compete at the World Indoors in Poland.
"It's perfect - win a championship, a PB and World Indoor standard so I'm pretty happy," said Foster.
Zoe Brown picked up the pole vault title in a PB of 4.31m while Joanna Mills won bronze in the 200m.
"My season is starting to come alight. I had three good performances at the British Championships last week so to come here and go faster is brilliant" added Foster.
"I didn't have the World Indoors on my calendar - I want to start running outdoors in early May as the Commonwealth Games deadline is early June.
"I'll sit down with my coach and see about going (to Poland). It's nice having the standard and racing against them is a thrill."
Brown, who has already qualified for the Commonwealth Games, impressed in winning the pole vault title.
"It's a great day, I jumped really high and in front of a home crowd, which makes it extra special," she said.
"I've moved to bigger poles so I've been working on that - I've taken a risk but its working out.
"I'm going to have a long season, so I'm finished with indoors now."
Ballymena and Antrim's Claire Wilkinson picked up silver with a best of 3.80m.
Mills came in behind Kelly Proper, who took her 17th national indoor title.
"I'm just glad to be back" said Mills, who took bronze in 25:31. "I'm coming back into it so I can't be too pushy on my form."
Donegal athletes had an excellent day, with Karl Girrin grabbing 800m silver in 1:52:82 behind Niall Tuohy in 1:52:24.
Danny Mooney took 1500m silver in a race won by World Indoors bound Dave McCarthy.