Veronica Campbell-Brown cleared to race after failed drugs test
Last updated on .From the section Athletics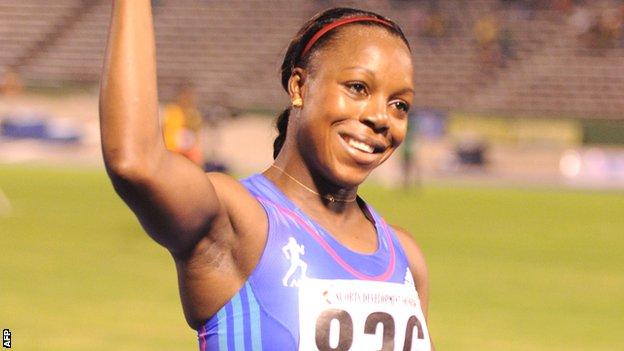 The Court of Arbitration for Sport (Cas) has confirmed that two-time Olympic 200m champion Veronica Campbell-Brown has been cleared of a doping violation and can race again.
But she has now been included in Jamaica's team for next month's World Indoor Championships in Poland.
She said the past few months have brought "much pain and suffering".
The sprinter released a statement on Monday saying she was free to compete and, on Tuesday, Cas confirmed they had upheld Campbell-Brown's appeal.
"The final court available to us as athletes have spoken and humbly I say they have confirmed my innocence," said Campbell-Brown.
She was provisionally suspended by the Jamaica Athletics Administrative Association after failing a test at the Jamaica Invitation meeting on 4 May.
In October, a Jamaican disciplinary committee review deemed a reprimand was sufficient punishment because the banned substance was not used for performance enhancement.
However, Campbell-Brown, who has won seven Olympic medals, had to wait for the IAAF's verdict before she could compete again. It appears the body that governs world athletics decided to hand the case to Cas.
"Yes, I lost out on the opportunity to compete for most of 2013 and the chance to defend my World 200m title. However, I press on," she added.
"Dr Martin Luther King Jr spoke of the redemptive quality of unearned suffering and I must say I am redeemed."
She also thanks the IAAF for "expeditiously handing my case to Cas".
Monday's news is a boost for Jamaican athletics, which has been under scrutiny following a series of failed tests.
Last year, Asafa Powell and Sherone Simpson tested positive for banned substances and missed the World Championships in Moscow.
In 2009, Jamaican sprinter Yohan Blake and three other islanders received reduced suspensions of three months after testing positive for a banned stimulant.