Athletics: Coach Stephen Maguire to leave Scotland for UK role
Last updated on .From the section Athletics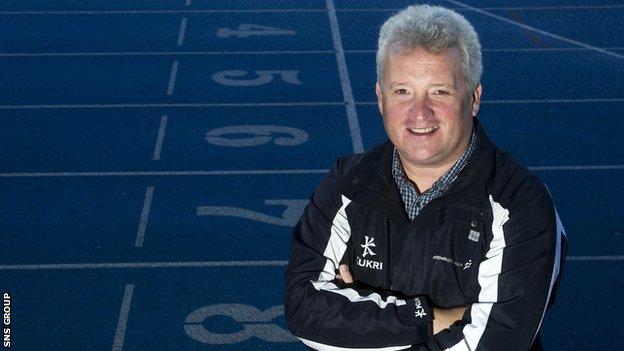 Scotland will be seeking a fourth director of athletics coaching in five years when Stephen Maguire moves on later this year.
Maguire has been recruited by British Athletics to the post of head of power - sprints, sprint hurdles and relays.
But the Northern Irishman will remain in his current post until after Glasgow's Commonwealth Games.
And Maguire will be on hand to collaborate with his successor to help facilitate a smooth transition.
British Athletics performance director Neil Black described Maguire's work in Scotland as "exceptional".
"Of course it is important to both British Athletics and scottishathletics that Stephen continues to focus on the Scottish team through to the Commonwealth Games," he said.
"We already work closely with Stephen in his current role and that will continue over the coming months so that we are in really good shape when he joins us.
"We have worked with our colleagues at scottishathletics to ensure that Stephen is available to support his replacement and continue the programme that is having such outstanding success for Scottish athletics."
Maguire took up his current post in September 2012 and scottishathletics chief executive Nigel Holl praised his "excellent impact".
"His influence in the two years leading in towards the Commonwealth Games has been significant," he said.
"I believe that has been not only at the elite performance end of things but further in helping integrate and support our development plans and programmes.
"The coach development projects have not only been focused on athletes who will compete in Glasgow - rather they have been for and on club coaches at all levels - and seeking to inspire and assist coaches working with athletes across the pathway.
"Now concepts which Stephen has brought to Scotland can be brought to bear at UK level.
"Arrangements are in place for Stephen's influence to still impact in Scotland - through his new role at British Athletics and also working with the new team we will put in place."