Jessica Ennis-Hill calls for more female coaches in athletics
Last updated on .From the section Athletics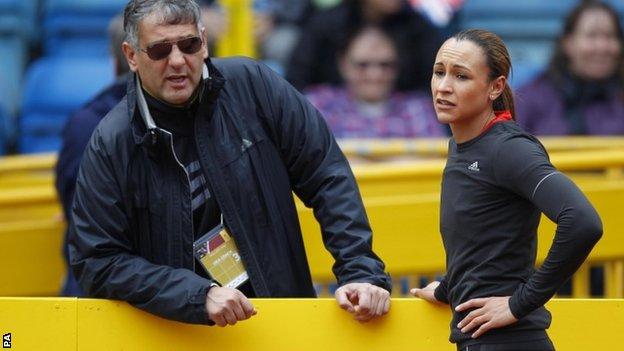 Olympic gold medallist Jessica Ennis-Hill wants to see more female coaches in athletics.
The 27-year-old British heptathlete believes her sport is "very male dominated" when it comes to coaching.
"It would be great to see more female coaches involved in track and field," she told BBC Radio 4's Today programme.
Ennis-Hill, who was coached to London 2012 Olympic gold by Toni Minichiello, a man, added: "I feel they [women] could bring a lot to the sport."
UK Athletics launched a Female Coach Legacy Programme in November 2012 that offered assistance to eight women coaches with the aim of giving them the skills to start working with elite athletes.
British Athletics' head of coaching development, Peter Stanley, said 25% of participants in the national coach development scheme are female.
"We are committed to the process of developing all coaches, including female coaches," he said.
The issue of women coaches is also topical in tennis.
Billie Jean King has suggested players in her sport are making a "big mistake" by not employing more women.
Ennis-Hill, who works with Minichiello from her Sheffield base, is taking a break from athletics as she prepares for the birth of her first child.
She intends to return to action in time to defend her Olympic heptathlon title in Rio in 2016.
"It's a huge challenge to come away from your sport, have a child and come back," she said.
"I see that as great motivation. I feel I've got a little bit more time left in athletics and a little bit more left that I'd like to achieve."
In Ennis-Hill's absence, Katarina Johnson-Thompson, 21, is now a favourite for gold at the 2014 Commonwealth Games in Glasgow.
Johnson-Thompson won silver in the long jump at the World Indoor Championships in Poland on 9 March.
"She's in incredible form at the moment," added Ennis-Hill. "If she can carry on doing what she's doing, I definitely think she can take the gold medal in Glasgow."