Mo Farah should refocus ahead of London Marathon - Steve Cram
Last updated on .From the section Athletics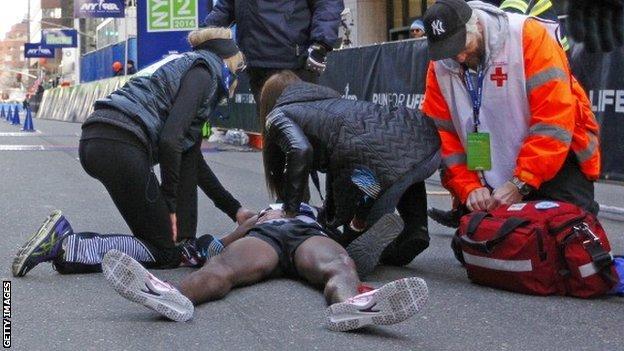 Former 1500m world champion Steve Cram has said Mo Farah should "move on" and not worry about collapsing after finishing the New York half-marathon.
Double Olympic champion Farah, who fell during the race after being tripped, went on to finish second.
The race was part of the 30-year-old's preparation for his full marathon debut in London next month.
Cram told BBC Sport: "It wasn't how he wanted to feel and the headlines were very dramatic but it's no big deal."
Farah, Britain's most successful distance runner, received medical treatment at the finish line before being taken away in a wheelchair.
The Londoner said afterwards his preparations for the London Marathon were on track, even though he reportedly fell unconscious for around three minutes after crossing the line in Lower Manhattan.
Cram, who was once the 1500m world record holder, said: "What I was mainly concerned about was whether he was hurt. He wasn't and he himself has said it was no big deal, don't worry about it.
"He's quite rightly trying to play it down. I haven't spoken to Mo but I've been told he was absolutely fine afterwards.
"You can do a really hard training run and get light-headed at the end of it so it isn't super unusual, but it was just really high profile."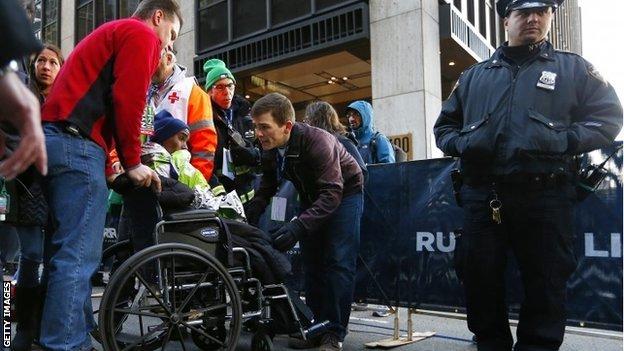 Earlier in the race, Farah had fallen after being accidentally tripped at the six-mile mark, allowing eventual winner Geoffrey Mutai to break clear.
Cram said the tumble was one of a number of contributing factors to Farah's legs giving way at the finishing line.
"Mo has been training in Iten, Kenya, so the trip to New York, with the time change and massive change of temperature - it was much colder than anyone would have been anticipating for the middle of March - would have conspired against him," said the 53-year-old.
"He might have been training hard right up until the weekend and maybe he was more tired than he thought.
"Plus, he tripped. When you fall it upsets your rhythm - that was evident. When that happens, you lose concentration and, suddenly, you start to chase rather than concentrate on your own race."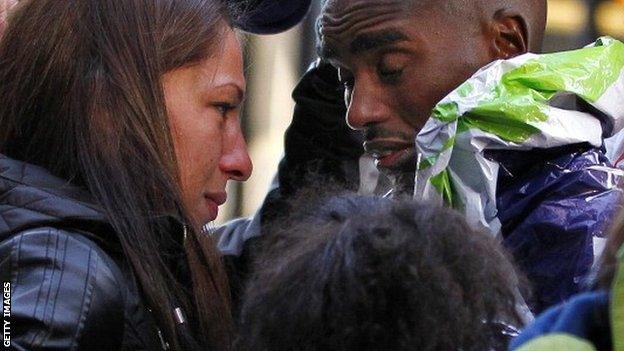 Ahead of the race, Farah had said he was targeting his own British half-marathon record, set in new Orleans in 2013, but Cram said the "bigger picture" was that he had come through unscathed.
Farah, invincible on the track in major championships during the last 18 months, will attempt to transfer his prowess to the road when he races over 26.2 miles for the first time on 13 April.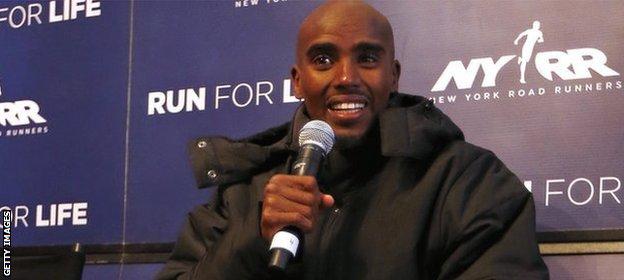 Cram said the incident in America would not mess up Farah's marathon training but did believe the Briton would need a different mindset if he was to be successful on the streets of London.
"There's only a few weeks to go, so he'll be starting to wind down his training," said Cram.
"He's not going to go back to Kenya and do loads of training. He's got to trust what he's done up to this point. I'm sure he will.
"If anything, New York proved how unpredictable running long distances can be.
"Mo has said that you have to respect the distance. Even over 13 miles, if you have a day like Mo did you're going to feel it.
"On the track, your mind games are played with your competitors. In the marathon, you battle with yourself quite a lot. It's a different way of thinking and that's why everyone says it takes two to three marathons to get used to it.
"He could have done without the result at the weekend, but it is something he can come back from."