Susan Partridge targets Glasgow Games best in marathon
Last updated on .From the section Athletics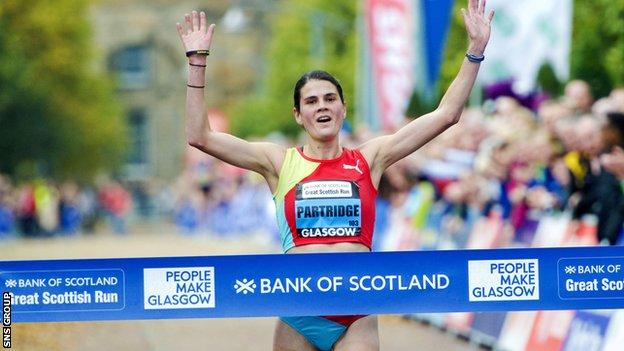 Susan Partridge is aiming for the "performance of a lifetime" in front of a home crowd in this year's Glasgow Commonwealth Games marathon.
"I've been planning for years how I'm going to get to the peak of my fitness," said the 34-year-old.
"With the amount of time and planning I've put into the training, it's reasonable for me to expect to step up a level.
"That's all I can do. I can't control how good other people are."
Partridge, raised in Oban, finished 10th at the Melbourne Commonwealth Games in 2006 in a time of 2:39:54.
However, her speed has increased since then and she set a personal best of 2:30:46 in last year's London Marathon, when finishing ninth, before going on to win last year's Great Scottish Run half-marathon in Glasgow.
She told BBC Scotland: "At last year's race I was thinking this is a taster of what's to come; the Great Scottish Run was really building the excitement for the Commonwealth Games.
"I think that's why I ran so well. I wasn't really sure where my fitness was off the back of a marathon but I wanted to do well because it was in Glasgow.
"It was a home event and people were looking at me to see what I can do, come the Games."
Overlooked for the 2012 Olympics, the Glasgow University graduate performed well for Great Britain at the 2013 World Championships in the gruelling Moscow heat, coming in 10th.
Partridge will face stern competition from a gifted African contingent in Glasgow, with Kenya taking three of the top five spots at the 2010 Games in Delhi.
"The Kenyans have announced a strong team so it's going to be difficult," she added.
"The key is remembering how much you've put into it and to run confidently; you can't really predict an outcome.
"It's about making sure you are in the best form you can be and taking advantage of any opportunities."