Glasgow 2014: 400m runner Lee McConnell announces retirement
Last updated on .From the section Athletics49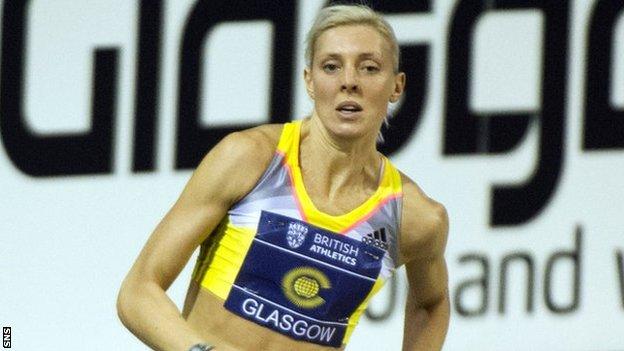 Scottish 400m runner Lee McConnell has announced her retirement from athletics with immediate effect.
McConnell, who took silver at the 2002 Commonwealth Games in Manchester and bronze in Melbourne, said her life had changed since becoming a mother.
"I've now reached the decision that my career as a professional athlete has come to an end," she added.
The 35-year-old had aimed to compete at Glasgow 2014 but stressed it was the right time to end her career.
McConnell returned to training nine weeks after giving birth to her son, aiming to regain fitness and secure her place in the Scottish team.
Speaking in January, she said she was excited at the prospect of competing in her home city.
"If the Commonwealth Games weren't in Glasgow then I wouldn't contemplate trying to get back," she said.
"But I was born and raised in Glasgow and I still live in the city so it'd be a shame to miss it."
Explaining her decision to retire, McConnell said: "This is obviously a huge year for Scotland and this was not an easy decision to make as it means not competing in a home Commonwealth Games.
"Now is my time, however. I'm excited for the new opportunities and challenges that retiring from athletics will bring me and look forward to getting involved with a home games - just not as a competing athlete."
Nigel Holl, chief executive of Scottish Athletics, said McConnell was arguably Scotland's most successful track and field athlete of the past decade.
"This is a tough decision for Lee to take in the lead-up to a Commonwealth Games in her home city," he said.
"But her family and her health are of course paramount. I hope and expect there is a role for Lee within athletics in the future - sharing her experiences with future Scottish athletes. When the time is right, we very much look forward to having that conversation with her."
Scottish 400m hurdler Eilidh Child tweeted: "Sorry to hear the news but lots more exciting things to look forward too away from the track! We will miss you in Glasgow x."