London Marathon 2014: Mo Farah aims to break British record
Last updated on .From the section Athletics
Double Olympic and world champion Mo Farah has set his sights on breaking Steve Jones's 29-year-old British record at the London Marathon.
Farah, 31, will be making his full debut in the 26.2-mile race on Sunday.
"My main target is to go after the British record," said Farah of Jones's record time of two hours, seven minutes and 13 seconds, set in 1985.
"It's going to be an incredible race whatever happens because if you look at the field it's something very special."
Farah, unbeaten on the track in major championships during the last 18 months, will attempt to transfer his prowess to the road on Sunday but faces four of the 10 fastest marathon runners in history.
The strong field includes reigning champion Tsegaye Kebede, world record holder Wilson Kipsang, course record holder Emmanuel Mutai and Olympic and world champion Stephen Kiprotich.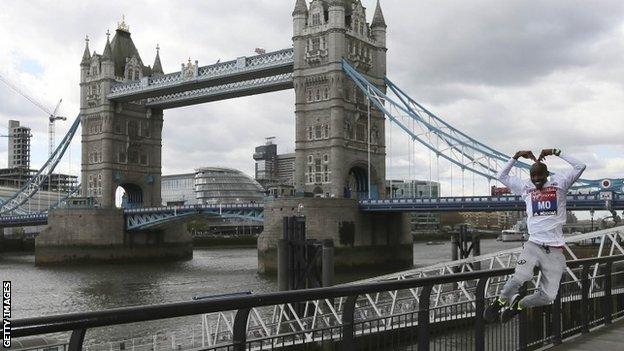 "I know with my confidence on the track I should be there but, at the same time, the distance for me is a challenge," added the 5,000m and 10,000m Olympic and world champion.
"It's something I'm going to find out if I can do or not and that's what I wanted. I wanted to test myself.
"Every race is a risk. Every race you go through, you achieve a lot and want to win but you're not guaranteed to win that race.
"I've gone in straight at the deep end and that's what champions do. You don't get anywhere if you don't do that.
"My first aim is to go after the British record and then I'll see what comes along.
"The most important thing is to respect the distance. If anything I think it makes me more of a champion going out there and going straight in."
Farah collapsed after finishing second in the New York half-marathon last month, but the Londoner said the incident had not hindered his training.
"I fell over early on and it was just hard after that because you're so tired," he said.
"The reason I collapsed afterwards was I gave 110%. I gave all I could and towards the last four miles I was really feeling it, I was seeing stars and I was out of it completely.
"It was good to have my coach, who has been there and done it. He just told me to get up and stop faking. I'm fine and I'm glad what happened in New York didn't happen here."