Asafa Powell: Kim Collins says drugs cheats must 'man up'
Last updated on .From the section Athletics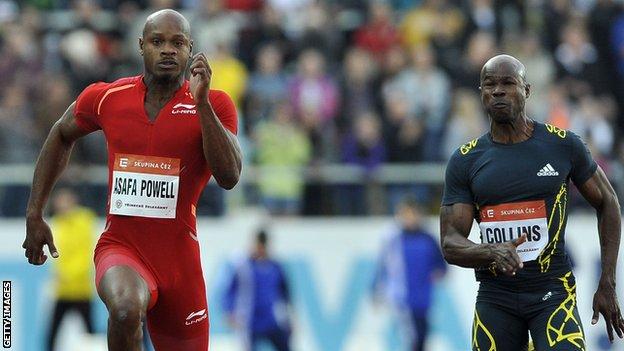 Asafa Powell cannot use ignorance as an excuse for his 18-month drug ban, says former 100m world champion Kim Collins.
The former 100m world record holder claimed he had taken the substance unwittingly in a supplement given to him by his coach, Chris Xuereb, who denies the allegation.
But Collins told BBC Sport that cheats need to "man up".
Powell, who set a 100m world record of 9.74 in 2007, was one of five athletes to test positive for banned substances as the Jamaican national championships in June last year.
Former training partner Sherone Simpson, an Olympic 4x100m relay gold and silver medallist, was suspended for 18 months by a Jamaican anti-doping panel on Tuesday, having also tested positive for oxilofrine.
Olympic discus thrower Allison Randall was banned for two years by the same panel, with both suspensions backdated to 21 June 2013, the date they provided the samples.
Tests showed that oxilofrine is present in a supplement known as Epiphany D1, which Powell said was supplied to him by Xuereb.
But Collins, who runs for the Caribbean island of St Kitts and Nevis, said it was wrong for Powell to blame his coach.
"You say you trust this guy and he got you into this trouble," said Collins, 38. "You trusted him."
Collins said athletes who cheat should follow the example of British sprinter Dwain Chambers, who admitted he was to blame after testing positive for the designer drug tetrahydrogestrinone (THG) in August 2003, for which he received a two-year ban.
Chambers was also given a lifetime ban by the British Olympic Association, which was overturned by the Court for Arbitration in Sport in 2012.
"Whenever these tests come out, people have some really strange excuses," said Collins. "Very few people man up.
"I think that's why Dwain ended up in so much trouble - for saying the truth.
"In track and field, when it comes to cheating, you do not tell the truth. You lie, lie, lie. Come on, we all know. Man up, man up, man up.
Collins argues that any athlete succumbing to temptation would be cheating young fans as well as the sport.
"I think about the kids who look up to a lot of us," he said. "They want to be like us and it breaks their hearts when they find out that you're not really who you say you are, based on what is going on."