Glasgow 2014: Time to deliver says Wales hurdler Rhys Williams
Last updated on .From the section Athletics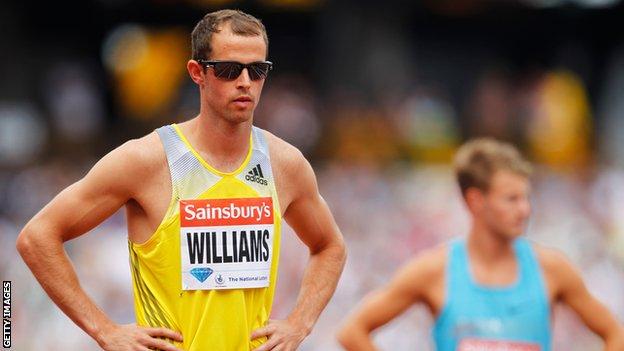 European 400m hurdles champion Rhys Williams says it is "time to deliver" as he bids to defend his title and win Commonwealth Games gold.
The 30-year-old has found himself in the shadow of fellow Welshman and reigning Commonwealth Games champion Dai Greene for many years.
Williams secured the A standard for Glasgow last May, the first Welsh athlete to achieve the mark.
"It's really time to deliver for me," Williams told Radio Wales Sport.
"Athletes talk a lot about injuries but I'm going into my fifth year of having absolutely nothing so I've really built year on year.
"I got a few PBs [personal bests] last year but I'm still convinced there's a chunk to come off.
"I've been really working hard on my technique so I'm hoping to impress."
Williams was a Commonwealth bronze medallist in 2010 with then World champion Greene winning gold in Delhi.
In 2012 Williams won the 400m hurdles European Athletics Championships, his only gold medal at a major championship to date.
The Welsh pair will be up against current World champion, Trinidad and Tobago's Jehue Gordon, in Glasgow this summer.
Bridgend-born Williams is looking forward to competing in his third and final Commonwealth Games and considers them as important as the Olympics and World Championships.
"For me it's as high as it gets. The Commonwealths is really up there," Williams said.
"I grew up watching the Commonwealth Games and it appealed to me seeing Welsh athletes like Colin Jackson winning medals.
"I've always wanted to emulate them."
The Welsh Athletics team has held a warm weather training camp in Portugal for the past week under the guidance of Welsh Athletics national performance coach Scott Simpson.
Williams has been impressed with the preparations ahead of the Commonwealth Games, which will be held between 23 July and 3 August.
"Scott Simpson's really got a good buzz around the place," Williams said.
"He's set up a good training camp out here and all the athletes have embraced it.
"Four years ago we had a bit of a camp but it was nowhere near as good as this one and I think everyone's raring to go."