Greg Rutherford long jump record legal despite Tomlinson protest
Last updated on .From the section Athletics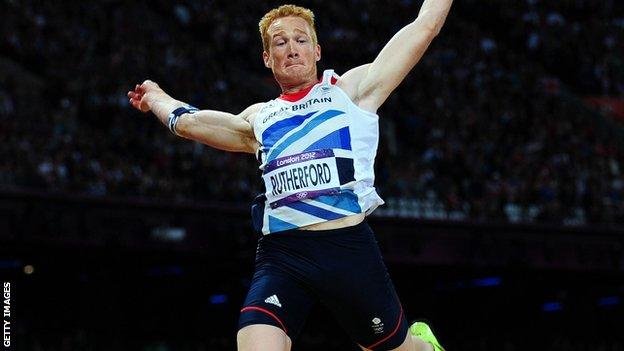 British long jumper Greg Rutherford's 8.51m national record set in San Diego has been declared legal, despite complaints from rival Chris Tomlinson.
Tomlinson, who previously shared the record at 8.35m with Rutherford, 27, believes the 2012 Olympic champion's effort was "not legitimate".
But USA Track and Field, which officiated at the event, says "all marks are verified and legal".
Tomlinson, 32, says pictures show Rutherford overstepped at take-off.
International Association of Athletic Federation rules state that an athlete's jump is illegal "if he, while taking off, touches the ground beyond the take-off line with any part of his body, whether running up without jumping or in the act of jumping".
To assist judges, a strip of plasticine is placed beyond the edge of the board and if marked, indicates a void jump - although it is also possible for the tip of the shoe to protrude over the edge of the board without marking the plasticine, and such a jump can still be legal.
"Lots of people have been sending me pictures of Greg's jump and what they show is that Greg's foot is not marginally over the plasticine but significantly over," said Tomlinson, who had congratulated Rutherford on Twitter when news of the record first broke.
"It's a large foul jump which has left me in an awkward position. Records have to be proper national records. The jumping world are laughing at this particular competition."
But Rutherford told the Guardian newspaper he was confident his record was legitimate.
"All the right i's were dotted and t's crossed," he said. "Ultimately, I wouldn't do it if it was not an official competition because the risk of jumping well and it not being official would absolutely gut me."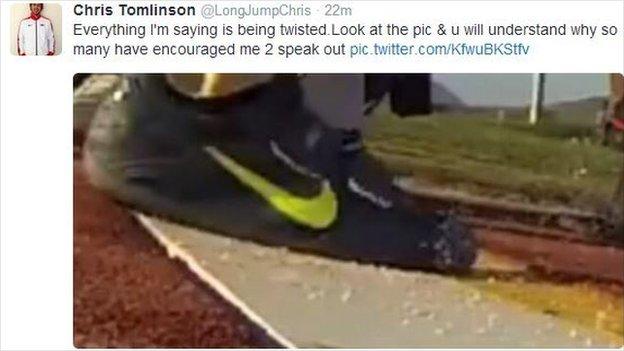 A USA Track and Field (USATF) spokesperson told BBC Sport that the event at the Olympic Training Centre had been sanctioned by the body through the USATF Southern California Association.
Rutherford won the competition ahead of Tyron Stewart of the US, whose best effort was 8.39.
The Milton Keynes athlete, who jumped 8.31m to win at London 2012, will next compete in Manchester on 17 May as part of his Commonwealth Games build-up.
Tomlinson, who finished sixth at London 2012, urged UK Athletics to examine Rutherford's jump but stressed he had the "utmost respect" for his fellow jumper and regarded him "as a friend".