Tyson Gay: Michael Jamieson says sprinter's drug ban lenient
Last updated on .From the section Athletics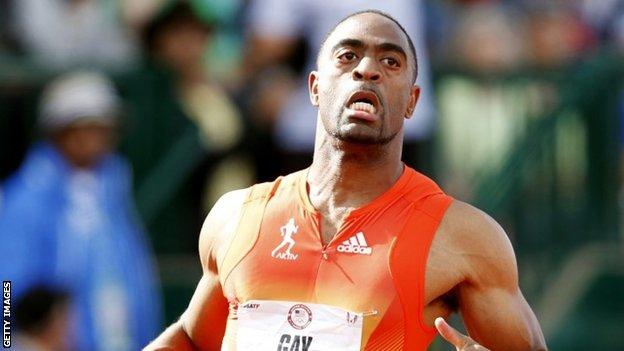 Olympic swimming silver medallist Michael Jamieson says American sprinter Tyson Gay has been treated lightly over his failed drug test.
His ban was shorter as he co-operated with the US Anti-Doping Agency (Usada).
"An athlete can take certain cold remedies and face serious suspensions," Jamieson said. "Yet he fails tests for testosterone and is banned for a year."
Writing on Twitter, the 2012 Olympic 200m breaststroke silver-medallist, 25, added: "Testosterone isn't taken by mistake. National governing bodies have too much say in the length of suspension.
"This story lets us know that there is no real desire to tackle doping."
The former 100m and 200m world champion, who could have faced a two-year ban, is eligible to return next month, and can also compete in future Olympics and World Championships.
His suspension has been backdated to 23 June 2013, the date he tested positive at the US World Championship trials.
That was one of three tests Gay failed, with two taken out of competition.
His results since 15 July 2012, the date he first used a product containing a banned substance, have been annulled and he has also returned the silver medal he won in the 4x100m relay at London 2012.
In April, former world 100m record holder Asafa Powell, whose positive test was revealed on the same day as Gay's, received an 18-month ban.