Diamond League: Steve Cram on what to expect in 2014

By Steve Cram
BBC athletics commentator
Last updated on .From the section Athletics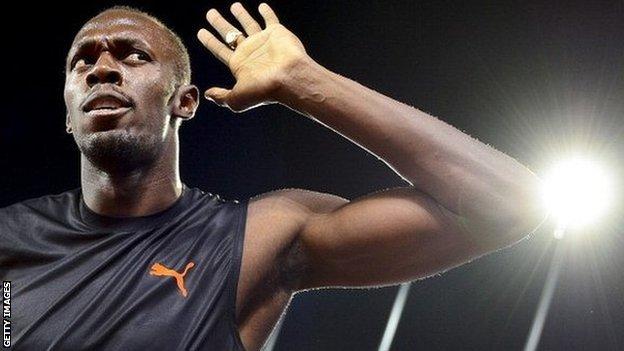 The athletics season gets into full swing in Doha on Friday with the first meeting of the Diamond League series. In his latest column, Steve Cram explains why this is an important year and looks at what could be in store for some of the sport's biggest names.
An athletics season sandwiched between major championships is always an interesting one.
Some athletes will go hell for leather trying to get fast times, while others will be trying to peak for the championships that are taking place, such as the Commonwealth Games, which start in July, and the European Championships in August. That always adds something to the season.
Will Rudisha still be invincible?
When David Rudisha does compete this year, he'll be very good, but the trouble is he has set incredibly high standards.
That race at London 2012, when he broke the 800m world record, will probably be the Kenyan's greatest race.
He missed last year's World Championships with a knee injury and has pulled out of Friday's meeting in Doha because of a calf injury. Often, when you come back from a big problem, you pick up niggling injuries.

The 800m is going to continue to be one of the most absorbing events to watch because the young athletes Rudisha dragged around the track at such a fast pace in London are still around and will be tough to beat.
Botswana's Nijel Amos, silver medallist in London, has run well recently and world champion Mohammed Aman had a good indoor season. They're not all going to run one minute and 41 seconds, but Rudisha is going to have to be nearly as good as his best if he wants to dominate.
The sport needs Rudisha, but we don't want people to always win by a procession so it's good that he'll be a bit vulnerable when he returns.
Bolt still the major attraction
People want Usain Bolt to keep competing and running fast, but he's 27 and there will come a time when the Jamaican is not going to be able to break world records any more.
He's still the dominant force, everybody wants him at their meeting and I'm crossing my fingers he'll be at the Commonwealth Games.
I'm hopeful he'll be at Glasgow because he likes the big stages. At this point in his career he'll want to continue collecting gold medals and cementing his place as an all-time great.
As for his sprint rivals, you've got Yohan Blake back after injury ruined his season last year and Tyson Gay will also be competing in a month's time.
People can argue about the length of Gay's ban for his positive drugs test.
On the surface, one year does seem fairly lenient. If he's co-operated with the US Anti-Doping Agency and given them good information, fair enough, but we have to make sure we catch them and give them the penalties they deserve.
But what sort of Tyson Gay are we going to see? He's had so many problems over the years and, it seems, was someone who got to a point in his career where he was desperate and got caught.
A year made for great rivalries
The men's 400m got off to a good start with Luguelin Santos beating world champion LaShawn Merritt at the weekend.
It will be an event to keep an eye on because Merritt did well last year, but Olympic champion Kirani James, after disappointing at the World Championships in Moscow, can still improve.
There will be a massive rivalry between Genzebe Dibaba and Abeba Aregawi in the women's 1500m.
Dibaba set three world best times in the indoor season - lowering the 1500m world indoor record by more than three seconds - but Aregawi is the reigning world champion.
Both have different targets for the year because Ethiopian-born Aregawi will be running in the European Championships for Sweden, while Dibaba has no championships to aim for. It's still an interesting head-to-head.
World records could fall
Qatari high jumper Mutaz Essa Barshim, the world indoor champion, has already said Javier Sotomayor's 2.45m high jump world record, set 21 years ago, could be broken this year.
In seasons when there aren't big championships, athletes can take more of a risk and not worry about peaking for a particular time.

If they peak in June and break a world record, then brilliant because it doesn't matter if they aren't in great form in August. People might be a bit more gung-ho and we may see some performing well this year.
Farah will bounce back after London Marathon
The Briton is planning to run at the Glasgow Diamond League in July, so athletics fans, especially those in Scotland, will hope the chances of him competing in the Commonwealths later that month have increased.
He's on holiday at the moment, spending time with his family and recovering from his eighth-placed finish at the London Marathon.
It was a good run. He's probably got it out of his system now and can concentrate on the rest of the season.
In the next month, he will assess how he's feeling psychologically and decide how hungry he is for more medals.
It was at the European Championships four years ago that he made his big breakthrough, winning the 5,000m and 10,000m, so he may want to defend one of those titles at this year's championships in Zurich.
I hope he competes at the Commonwealths.
If there was a choice of seeing Mo in the Commonwealths in Glasgow or the Diamond League in Glasgow, I know which one most fans would prefer. Hopefully he will compete at both.
A chance for young Brits to increase their profile
These are exciting times for Britain's young athletes. This year is a chance for those who haven't hit the public's consciousness to boost their profiles by winning medals.
Jessica Judd, in the 800m, and heptathlete Katarina Johnson-Thompson are athletes who aren't necessarily known to the wider public, while sprinter Jodie Williams has had a great start to the season, too.
There's also Andrew Vernon who ran an incredibly big personal best in the 5,000m over the weekend.
I'm not too sure how many people know about James Dasaolu. He became the second fastest Briton in history last year but he needs to be more consistent with his performances.
Consistently good performances in the Diamond League will help him. His coach, Steve Fudge, is keen to get him in top form for championships and he could nick a medal in the Commonwealths.
Steve Cram was talking to BBC Sport's Aimee Lewis