Yohan Blake: 'I've learned a lot from Michael Jackson'
Last updated on .From the section Athletics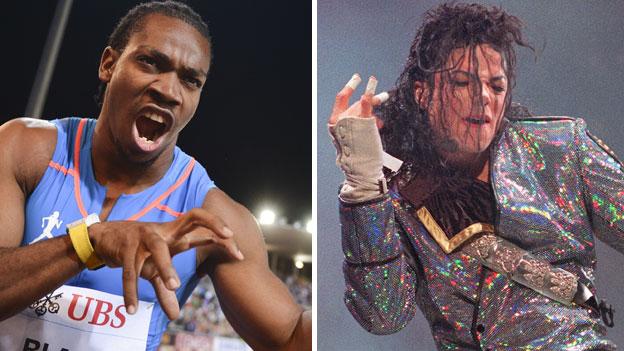 Athletes are often obsessives, clinging to the comfort of a repetitive routine like a warm, cosy blanket. It perhaps explains why Yohan Blake listens to Michael Jackson over and over again. Time after time. Day in, day out.
But on closer inspection, deeper reasons emerge as to why the King of Pop has had such an influence on the Jamaican sprinter who aspires to become the king of the track, and it is not just about the music.
It is about emulating the singer's wider vision of the world: wanting to make a change, to help those less fortunate than himself; to give them a chance, to give them hope. Admittedly, Jackson's songs and dancing aren't bad, either.
Three years ago Blake, now 24, became the youngest 100m world champion in history, establishing himself as a potential superstar and as Usain Bolt's only genuine rival for double sprinting gold in London 2012.
As it turned out, Blake finished second to his friend and rival in both the 100m and 200m, but later that month went on to equal the second fastest 100m in history, 0.11 second slower than Bolt's 9.58 world record.
Injured for almost all of last season, the former world champion is fit again and determined to fulfil his potential. And driving Blake, the man nicknamed 'The Beast' by Bolt because of his relentless work ethic, is the desire to, like Jackson, have an impact beyond his immediate world.
"I can moonwalk, of course," he says with an indignant smile, though when asked to demonstrate his prowess he hides his face in his hands and laughs, pointing out that the gravel scattered on the ground would prevent him from gliding backwards.
But there is no questioning Blake's sincerity. This is a man who listens to Jackson's music on a daily basis, who cried upon hearing news of his death in 2009 and stopped training for a week.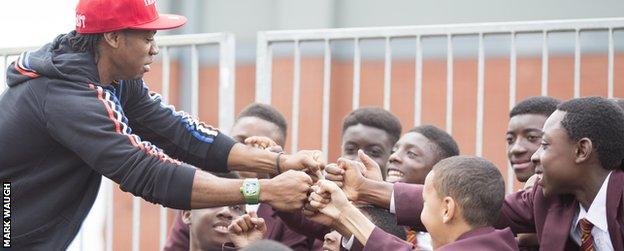 "I can do a bit of that lean in Smooth Criminal. And I listen to all his songs. Mostly Thriller, Man in the Mirror, Dirty Diana," he says with teenage enthusiasm, before adding, just in case there was any doubt: "I love all of them."
But, in many ways, it is Jackson's actions away from music that has been the real influence.
"He showed how people suffer and if you can start with the man in the mirror you can make a change," the softly-spoken Jamaican explains.
"He taught me a lot, just by watching his videos, watching him travel around the word. I've learnt a lot from Michael Jackson. It's not just the music, he helped a lot of people and that's what I want to do."
Blake grew up in one of his country's toughest neighbourhoods in Montego Bay and his success has already brought considerable wealth. But he gives 5% of his earnings to charity and funds a boys' home in Jamaica, providing education and psychological support to abused and under-privileged children.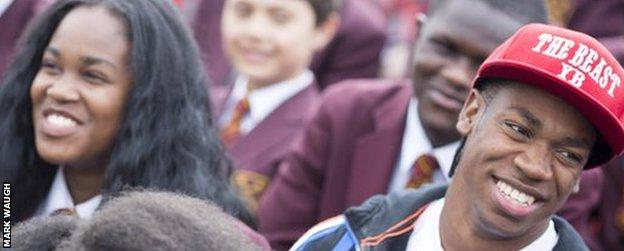 "He sees himself as the Michael Jackson of athletics," says his manager, Cubie Seegobin, watching on as a group of Manchester high school students scream and cheer and giggle in the presence of his client.
And Seegobin is open-mouthed in astonishment when, responding to the demands of his young audience, Blake removes his cap, signs it and presents it to an excitable girl who correctly answered that Blake won his world championship gold in 2011.
"I'm staggered, he loves that cap. He's never done that before," whispers Seegobin from the sidelines, "and there have been plenty of requests."
The model Heidi Klum is one of many celebrities to have received short shrift, but it is clear Blake feels a greater affinity with his current audience. "These kids are really nice so why not? It's true, I never give them away, but I know this community is a bad community and not many kids get to gravitate to the next level."
Blake has often said his rise to the top was made without a "gold spoon", but he knows there is still a long way to go. His first challenge, on the streets of Manchester on Saturday, is to better Bolt's 150m world best of 14.35 seconds, set by the six-time Olympic champion on a rain-soaked Manchester afternoon in 2009.
"I told him in training that I was going to try 14.30. He said, 'That's going to take some running'. He always sets the bar high, which I really like. As a youngster you have to aim high," says Blake.
Beating Bolt might be regarded as the definition of aiming high and Blake knows his fellow countryman is not departing the scene any time soon.
That, however, just fuels Blake's resolve. "I believe in time," he says. "That everybody has their time. Usain Bolt is having his time. We train together and I respect him a lot. I'll just wait until I have my time.
"I don't set goals, I have dreams. I'm still dreaming and when the time arrives, it arrives. Maybe this year, maybe next year, you will never know. I'm a man of surprises. I like surprises."
You can watch Blake compete at the Great City Games Manchester on BBC One, BBC HD, and the BBC Sport website from 13:15 BST on Saturday, 17 May.