Yohan Blake: Jamaican sprinter wants Yorkshire cricket chance
Last updated on .From the section Athletics
Jamaican sprinter Yohan Blake claims he has held talks with Yorkshire over a proposed move to cricket when he retires from track and field.
The 2011 world champion, 24, has a personal best of 9.69 seconds but played as a fast bowler in high school.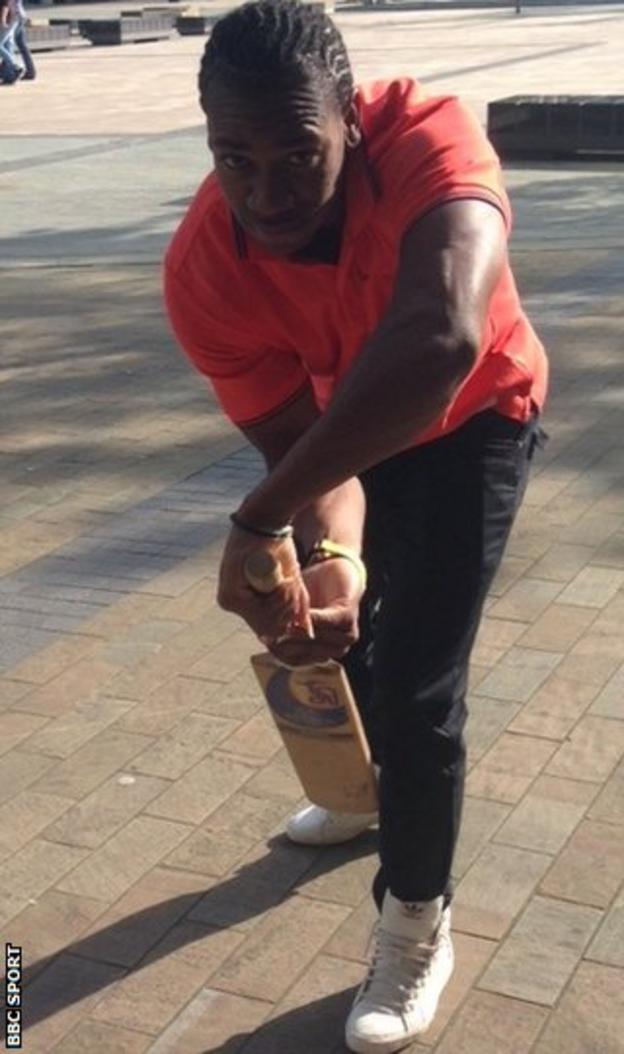 "I've been wanting to play for Yorkshire or in England. After running, I'll put my mind to that," Blake told BBC Radio 5 live.
"We have some talks with some of people and we are looking forward for it."
Yorkshire said Blake was "welcome" to play for them, tweeting: "Let's get that sorted; come and have a net with us."
A club spokesman added: "At this stage, we're flattered that Yohan has expressed an interest in being involved and playing with Yorkshire. We're always on the lookout for fresh talent.
"Let's get him in the nets and see what he's made of."
Blake plays for Kingston Cricket Club when the athletics season is over and claims he could be the world's fastest bowler - regularly reaching speeds of 85-90mph when he is practising.
Nicknamed "the beast" for his quirky pose before races, he took silver behind compatriot Usain Bolt at London 2012.
He plans to retire from the track at 29 and switch to cricket, though he joked he is already "good enough to make England's team".
Surrey batsman Kevin Pietersen - recently axed by England - tweeted Blake: "There is a batting slot at number four in England side for you! I'd be happy for you to take it...#BeastTheBall"
Bolt has also talked of switching sports after hanging up his track spikes, saying he "has the skills" to play for Manchester United, while the coach of the Jamaican national football team, Winfried Schaefer, is reportedly interested in using the world's fastest man.
"I love cricket more than I love athletics," said Blake during a visit to Lords in August. "I practise at home because I have a bowling machine, which I set to 90mph because I like the speed."
Yorkshire, however, could face competition for his signature, with Australian side Sydney Sixers previously expressing an interest in his services.
"If he can do what he says he can do - and I have no reason to disbelieve him - Yohan would be a marquee player for me to sign," said Sixers chief executive Stuart Clark.
Blake could compete at the Commonwealth Games in Glasgow this summer, although he remains undecided as to whether he will take part in the event for the first time.
He will run in the United Kingdom for the first time since London 2012 when he competes over 150m at the Great City Games in Manchester this weekend. Full coverage on BBC One from 13:15 BST.