Glasgow 2014: Lynsey Sharp focused on qualifying time
By Jane Lewis
BBC Scotland
Last updated on .From the section Athletics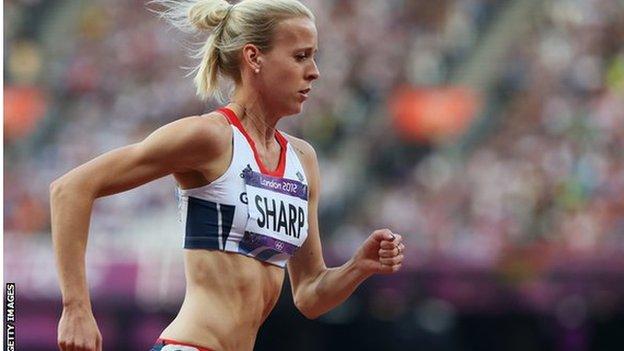 European 800m champion Lynsey Sharp is confident of making the Commonwealth Games despite only having three races left to match the qualifying time.
The 23-year-old has undergone surgery twice in a nightmare 12 months to resolve a painful leg tendon injury.
"I've had a difficult time the past year, but things have gone a lot better since January," she told BBC Scotland.
"All I'm looking to do is compete rather than chase times and hopefully the time will come."
Sharp feels she is on track after racing last weekend in Watford.
"I chose to go in the B race just for a bit of a confidence boost and just enjoy racing again and I won that in two minutes three seconds," said the Scot.
"So I've got a second to find in three weeks.
"I've got three races lined up in the next three weeks, but obviously if I do it in one of the first two then I won't do the last one.
"I've got those options there, but hopefully I won't need them all."
Sharp admits it has been "really tough" since her "dream year" in 2012, when she won European gold in Helsinki then competed in the Olympics, although she exited the competition after a disappointing semi-final.
"I last raced in May 2013 and then had surgery in September to have my tendon removed and had surgery again in October because the wound didn't heal," she explained.
"Then, six weeks ago, I was in hospital again on antibiotics because there was an infection under the skin.
"There's a possibility of needing it fixed at the end of the season, but at the moment I'm just taking each day as it comes."
Sharp was praying she does not miss out on competing in front of her countrymen in Glasgow this summer.
"I knew the bad stuff could only last so long and 2014 is huge as well and I'm just focusing on that," she said.
"It was so unique to be in the sport when there was a home games in London, home games in Glasgow then we have world championships in London again in 2017.
"So it's just a dream time to be in the sport."