NI Championships last chance to advance Commonwealths claims
Last updated on .From the section Athletics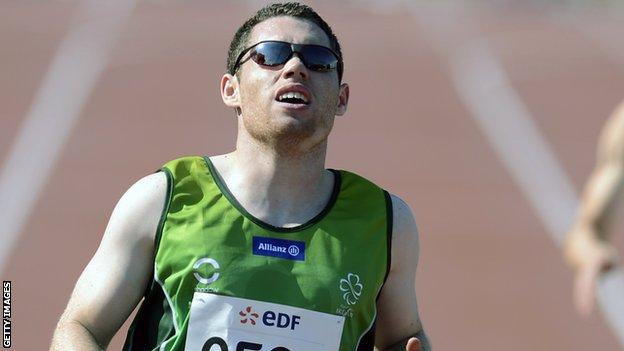 Local athletes will have their final chance to advance their claims for Commonwealth Games selection in Saturday's Northern Ireland Championships at the Mary Peters Track.
Seven of the 11 Northern Ireland athletes who have achieved Glasgow consideration marks will be in action.
Those yet to achieve Glasgow standards include Paralympic star Jason Smyth.
Smyth will have his last chance to chase the 100m mark of 10.30 with his season's best currently 10.40.
Athletics Northern Ireland officials will sit down on Sunday to draw up a list of nominees for the Games which they will then submit to the Northern Ireland Commonwealth Games Council.
The Commonwealth Games body is scheduled to discuss those nominations on Monday evening.
As it stands, 13 athletes have achieved Glasgow consideration marks but marathon runners Breege Connolly and Thomas Frazer have asked not to be considered for the games, with the later opting instead to concentrate on the European Championship Marathon in Zurich in August.
That leaves 11 Northern Ireland performers who have Glasgow standards.
Those who have standards and who want to travel to Glasgow are Ben Reynolds [110H], Jason Harvey [400H], Peter Glass [Decathlon], Paul Pollock [10,000m/Marathon], Amy Foster [100m], Zoe Brown [pole vault], Christine McMahon [400H], Katie Kirk [800m], Glady Ganiel[Marathon], Kerry O'Flaherty [3,000m steeplechase] and Leon Reid [200m].
O'Flaherty was over two seconds inside the steeplechase standard last weekend as she clocked 9:52.94 at a meeting in Belgium.
Reid, meanwhile, has emerged as a candidate for the team after opting to declare for Northern Ireland as his mother hails from the province.
The 19-year-old Birchfield Harrier produced a 200m personal best of 20.62 last year and has produced a 20.91 clocking this year.
Reid won a European Junior Championship 200m silver medal last year when those behind him included Irish talent Marcus Lawler.
Going on past evidence, it will be a major surprise if Athletics Northern Ireland doesn't nominate all those athletes who have achieved Commonwealth Games consideration standards.
Those will have to be provided in order of preference by the federation which could become an area of controversy if the Commonwealth Games Council opts not to ratify all the nominees.
To further complicate matters, there has been some speculation that the federation could also consider nominating high-profile sprinter Smyth even if he doesn't manage to achieve the Glasgow standard this weekend.
Smyth's personal best of 10.22 from 2011 is well inside the Glasgow consideration mark and he has run times of 10.40 and 10.41 this season - the latter in Europe a week ago - in addition to a 10.36 clocking last season.
A hamstring problem has affected Smyth's training this season but he looks to have regained fitness in recent weeks.
If he misses the Glasgow standard again on Saturday, then he will very much be at the mercy of the selectors but a time under 10.50 would probably kept his hopes alive.
However, the federation would be unable to nominate him ahead of those athletes who have achieved Commonwealth marks.
Zoe Brown is a certainty to travel to Glasgow after improving her Northern Ireland record to 4.32m last weekend.
Brown will be in action on Saturday while other Commonwealth Games-bound performers who will compete are Ben Reynolds, Amy Foster, Katie Kirk, Jason Harvey, Christine McMahon and Peter Glass.
Reynolds will run in his specialist high hurdles on the same track where he set his Northern Ireland record of 13.49 last July while Harvey will be in action in both the one-lap hurdles and 200m.
Foster will run the 200m with McMahon and Kirk both missing their Commonwealths-qualified events to compete in the 400m.
Decathlete Glass, meanwhile, will be in the 400m entry while Newry AC talent Aislinn Crossey will hope to strength her claims for World Junior Championship selection when she runs in her specialist 800m.
A number of talented performers from the Republic are also scheduled to compete in Belfast including 400m hurdler Jesse Barr.