Chijindu Ujah: Sub-10 second 100m a shock for London sprinter
Last updated on .From the section Athletics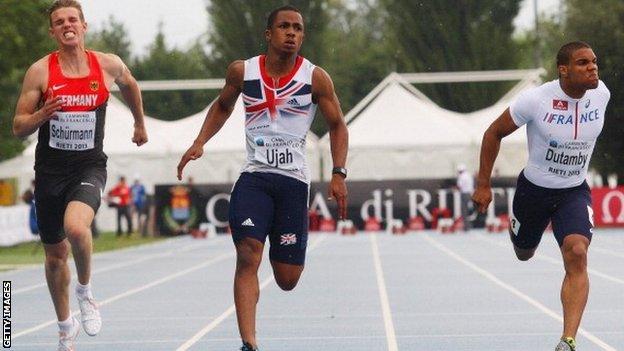 North London sprinter Chijindu Ujah says his sub 10-second 100m this weekend was a "shock".
Ujah, 20, is third on the UK all-time list with his time of 9.96 seconds.
"I've had little niggles in the past year or so as my body hasn't been able to deal with the power and the speed," he told BBC London 94.9.
"I'm still growing so for me to run this fast so soon was weird because it was a shock, although I knew what I was capable of. I'm thrilled and excited."
Ujah finished second at the FBK Games in the Netherlands on Sunday, just one hundredth of a second behind Trinidad & Tobago's Richard Thompson.
The only British sprinters to have run faster than Ujah, who represents Enfield and Haringey, are 1992 Olympic champion Linford Christie and British champion James Dasaolu.
"It still hasn't really sunk in," he added.
"The time came up and I didn't know if I had won. I was close to Richard Thompson of Trinidad so I was thinking 'wow'.
"I knew I was running faster than my previous personal best, which was 10.17 and 10.14 wind assisted. Going toe-to-toe with someone brings a little bit more out of you."
Ujah's coach, Jonas Tawiah-Dodoo, always thought the sprinter was capable of breaking the 10-second barrier.
"Every training session for the past seven weeks and his performance indoors show he was getting faster and faster," said Tawiah-Dodoo.
"More specifically, his maturity and ability to handle pressure and stay focused on his task is really what enabled him to do it."
Tawiah-Dodoo, who also coaches Olympic long jump champion Greg Rutherford, thinks running under 10 seconds should be more commonplace - despite hailing Ujah's performance as "a massive achievement".
"The rest of the world has people running these times at this age so I don't think it's too out of the ordinary," he said.
"We've always said it shouldn't be a barrier.
"It is my philosophy that it is a psychological barrier we have created in this country rather than an actual physical one.
"I promised him I'd cry when he did something amazing. He said 'why haven't you cried?' but I thought it should happen.
"At the highest level of sport, I believe we should be able to do this."
Ujah, the reigning 100m European junior champion, is now the fastest Briton over 100m this year.
"I'm just going to stay grounded," he said. "I am still young and there is still a lot more to achieve in the sport.
"I am really happy about breaking 10 seconds but I have to go on and show this form at championships."