Phillips Idowu & Greg Rutherford in GB & NI Euros squad
Last updated on .From the section Athletics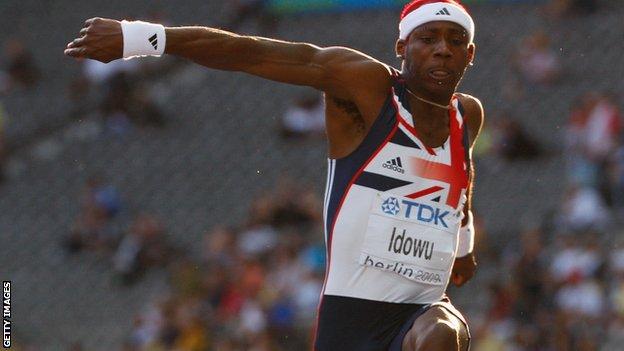 Phillips Idowu and Greg Rutherford have been included in a 48-strong Great Britain and Northern Ireland team for the European Team Championships.
Former world champion triple jumper Idowu and Olympic long jump gold medallist Rutherford will compete in Braunschweig, Germany on June 21-22.
Middle-distance duo Hannah England and Jenny Meadows and hurdlers Eilidh Child and William Sharman will race.
Performance director Neil Black has described the squad as "developmental".
He added in a British Athletics statement: "We head to Germany with the aim of being competitive and to challenge for as many points as possible.
"In comparison to last year's team, this is very much a developmental squad due to the confines of a crowded calendar this summer and the Sainsbury's British Championships just a week later."
Idowu's inclusion marks his return to the GB set-up for the first time in nearly two years.
Last year, Idowu announced he was to take a break from the sport, having fallen out with former GB head coach Charles van Commenee prior to the London Olympics in 2012.
His career appeared in jeopardy when he saw his lottery funding cut in October, but he has since made a successful return to action, including winning a meet in Nathan, Australia in May with a jump of 16.99m.
The likes of Mo Farah and Christine Ohuruogu are absent from the line-up but Chris Baker, Lucy Bryan and Jazmin Sawyers are named in a senior team for the first time.
Baker is a high-jump specialist, while Bryan won pole vault silver at the British Indoor Championships in Sheffield earlier this year and 20-year-old Sawyers took silver at the British Championships in 2013.
Great Britain and Northern Ireland finished third overall with a total points score of 339 at the 2013 European Team Championships in Gateshead.
GB & NI team for the European Athletics Team Championships:
Men:
100m: Daniel Talbot; 200m: James Ellington; 400m: Daniel Awde; 800m: Mukhtar Mohammed; 1500m: Charlie Grice; 3,000m: Jonathan Mellor; 5,000m: Luke Caldwell; 110m hurdles: William Sharman; 400m hurdles: Rick Yates; 3,000m steeplechase: Luke Gunn; High Jump: Chris Baker; Long Jump: Greg Rutherford; Triple Jump: Phillips Idowu; Pole Vault: Steve Lewis; Shot Put: Zane Duquemin; Discus Throw: Brett Morse; Hammer Throw: Nick Miller; Javelin: Lee Doran; 4 x 100m: Harry Aikines-Aryeetey, James Ellington, Adam Gemili, Richard Kilty, Daniel Talbot; 4 x 400m: Awde, Jarryd Dunn, Rory Evans, Andrew Steele, Rabah Yousif.
Women:
100m: Asha Philip; 200m: Sophie Papps; 400m: Shana Cox; 800m: Jenny Meadows; 1500m: Hannah England; 3,000m: Kate Avery, 5,000m: Julia Bleasdale, 100m hurdles: Serita Solomon, 400m hurdles: Eilidh Child; 3000m steeplechase: Lennie Waite; High Jump: Isobel Pooley; Long Jump: Jazmin Sawyers; Triple Jump: Yamile Aldama; Pole Vault: Lucy Bryan; Shot Put: Rachel Wallader; Discus Throw: Jade Lally; Hammer Throw: Sophie Hitchon; Javelin: Isabelle Jeffs; 4 x 100m: Louise Bloor, Sophie Papps, Asha Philip, Bianca Williams, Jodie Williams; 4 x 400m: Eilidh Child, Shana Cox, Emily Diamond, Laura Wake, Jodie Williams.