Hannah England to captain Great Britain & NI Euros squad
Last updated on .From the section Athletics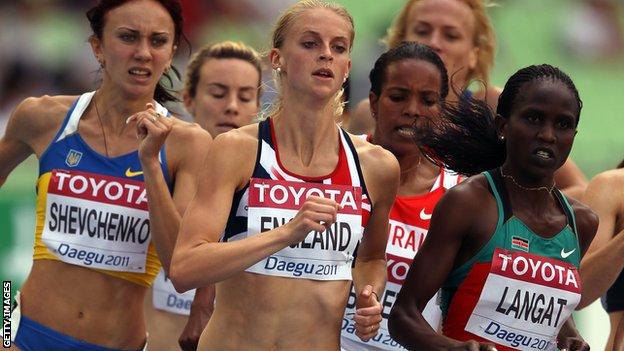 World Championships silver medallist Hannah England has been named as captain of the Great Britain and Northern Ireland team for the European Team Championships this weekend.
The 27-year-old will lead the squad in Braunschweig, Germany on 21-22 June.
British Athletics performance director Neil Black said: "Hannah was the stand-out name when I was selecting a captain."
"It's amazing to be captain," said England.
"It's not something I had on my to do list, but when Neil asked me, it was a real honour."
Meanwhile, Asha Philip and Sophie Papps have withdrawn from the women's 100m and 200m as well as the 4x100m relay squad, with Rachel Johncock and Anyika Onuora replacing them.
Andrew Robertson has been added to the men's 4x100m squad, with Seren Bundy-Davies joining the women's 4x400m squad.
Former triple jump world champion Phillips Idowu and Olympic long jump gold medallist Greg Rutherford are part of the 50-strong British team competing at the event.
Bianca Williams is in the 4x100m squad, having set a 200m personal best at the Ostrava Golden Spike meeting on Tuesday.
Revised GB & NI team for the European Athletics Team Championships:
Men:
100m: Daniel Talbot; 200m: James Ellington; 400m: Daniel Awde; 800m: Mukhtar Mohammed; 1500m: Charlie Grice; 3,000m: Jonathan Mellor; 5,000m: Luke Caldwell; 110m hurdles: William Sharman; 400m hurdles: Rick Yates; 3,000m steeplechase: Luke Gunn; High Jump: Chris Baker; Long Jump: Greg Rutherford; Triple Jump: Phillips Idowu; Pole Vault: Steve Lewis; Shot Put: Zane Duquemin; Discus Throw: Brett Morse; Hammer Throw: Nick Miller; Javelin: Lee Doran; 4 x 100m: Harry Aikines-Aryeetey, James Ellington, Adam Gemili, Richard Kilty, Andrew Robertson, Daniel Talbot; 4 x 400m: Daniel Awde, Jarryd Dunn, Rory Evans, Andrew Steele, Rabah Yousif.
Women:
100m: Rachel Johncock; 200m: Anyika Onuora; 400m: Shana Cox; 800m: Jenny Meadows; 1500m: Hannah England; 3,000m: Kate Avery, 5,000m: Julia Bleasdale, 100m hurdles: Serita Solomon, 400m hurdles: Eilidh Child; 3000m steeplechase: Lennie Waite; High Jump: Isobel Pooley; Long Jump: Jazmin Sawyers; Triple Jump: Yamile Aldama; Pole Vault: Lucy Bryan; Shot Put: Rachel Wallader; Discus Throw: Jade Lally; Hammer Throw: Sophie Hitchon; Javelin: Isabelle Jeffs; 4 x 100m: Louise Bloor, Rachel Johncock, Anyika Onuora, Bianca Williams, Jodie Williams; 4 x 400m: Seren Bundy-Davies, Eilidh Child, Shana Cox, Emily Diamond, Laura Wake, Jodie Williams.