Irish sprinter Steven Colvert facing ban after positive drugs test
Last updated on .From the section Athletics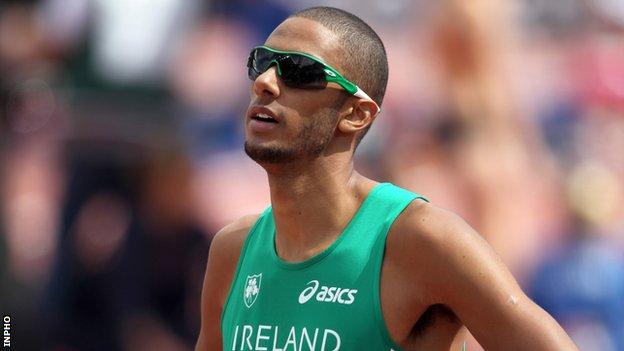 Irish sprinter Steven Colvert is facing a possible two-year ban after traces of the blood boosting drug EPO were found in his system in a recent doping test.
Colvert, 23, is maintaining his innocence and has asked for the immediate testing of the B-sample.
The positive finding came from a urine sample taken in an out-of-competition test on 20 May.
The student has been withdrawn from the Irish team for this weekend's European Team Championship meeting in Estonia.
Mullingar man Colvert has been replaced by David Hynes in the 100m and Marcus Lawler in the 200m.
The athlete has described his failed test as "like a really bad dream or a horrible prank".
The athlete said that he does not usually take supplements of any kind but had recently used a multivitamin after feeling "run down" following his recent third-year exams at Dublin City University.
"I firmly believe there has been some sort of error or false positive," Colvert told the Irish Examiner.
"I'm part of a programme in which they keep all of my samples for 10 years and I'm happy to go back and let them test every single sample provided.
"I'm flabbergasted by the findings," he said.
"If it was pseudoephedrine or a stimulant that's easily found in things like Lemsip then I could try and remember had I inadvertently taken something."
EPO would be an unusual choice of drug for a sprinter and has more commonly been taken by distance runners seeking to gain an illegal performance enhancement.
Colvert narrowly missed qualifying for the London Olympics after running a 200m time of 20.57 in 2012 and has a season's best of 20.90 for the distance this year.