Teddy Tamgho: Triple jumper banned for missing drugs tests
Last updated on .From the section Athletics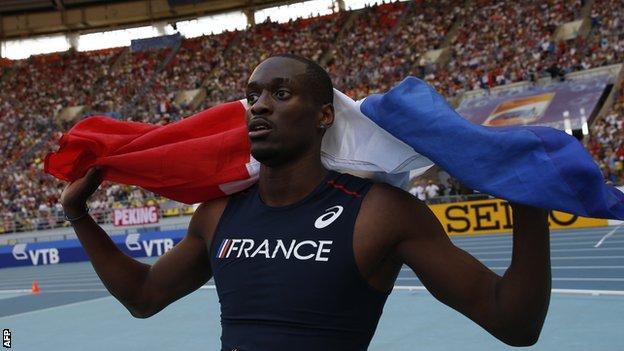 Triple jump world champion Teddy Tamgho has been banned for a year for missing three out-of-competition doping tests.
The Frenchman, who became the third man to go over 18m when he leapt 18.04m to win the world title in Moscow last year, is banned until 17 March 2015.
The French Athletics Federation (FFA) said the ban was backdated because of his "good faith" during the case.
The FFA's board ruled 25-year-old Tamgho, who has 45 days to appeal, did not deliberately miss the three tests.
It found Tamgho missed tests on 19 December 2012, 28 January 2014 and 18 March 2014, the date on which his backdated ban began.
Tamgho is currently injured, having fractured a tibia in November 2013.
He was banned for 12 months in 2011, with six suspended, after being involved in a fight with a female athlete.