Ireland finish seventh at the European Team event in Estonia
Last updated on .From the section Athletics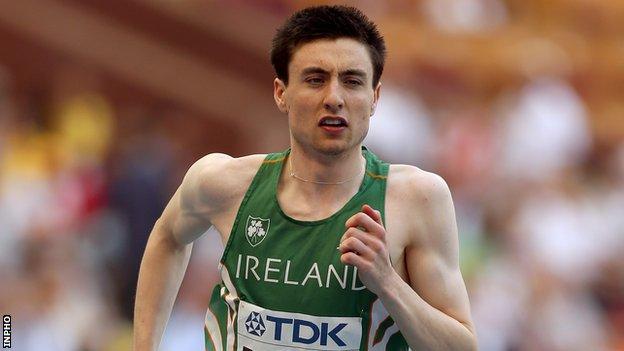 Mark English's 800m win helped Ireland achieve a pleasing finish of seventh in the European Team Championship First League meeting in Estonia on Sunday.
The Donegal man won the 800m race in 1:47.63 after kicking with 250m left.
Ben Reynolds finished third in the 110m hurdles in 13.82 while Christine McMahon ran a fine 4x400m relay leg.
Ballymena & Antrim athlete McMahon's final leg helped the Irish women's quartet finish fourth and the men's 4x400m second place in the final event of the meeting ensured that Ireland pipped Portugal for seventh place overall, after starting the day in eighth spot.
That meant that the Irish comfortably maintained their First League status for next year.
The men's 4x400m time of 3:05.40 was the best time by an Irish squad for six years as the quartet of Craig Lynch, Brian Murphy, Thomas Barr and Gregan finished only .47 of a second behind a Belgian team which included the three Borlee brothers.
Fionnuala Britton earned very useful points with her second place in the women's 5,000m and the Wicklow athlete's time of 15:23;37 was well inside the European Championship standard of 15:30.00.
Britton finished just over two seconds behind Portugal's Dulce Felix, who is a regular rival of the Irishwoman during the winter cross country season.
Laura Crowe battled well in a tactical 1500m to finish second in 4:13.84 holding off Slovenia's Liina Tsernov for second with Norway's Ingvill Makestad Bovim taking victory in 4:11.07
Reynolds will have hoped for a considerably faster time in Tallinn but the wet and cold conditions will not have helped the Holywood hurdler.
Kelly Proper finished third in the women's 200m in 23.74 while Sarah Lavin also earned good points for her fourth spot in the 100m hurdles in 13.48.
The competition was won by Belarus [302.5] while Norway [300] and Finland [290.5] also earned promotion to next year's Super League.