Doping life bans 'not legal', says Wada president Sir Craig Reedie
Last updated on .From the section Athletics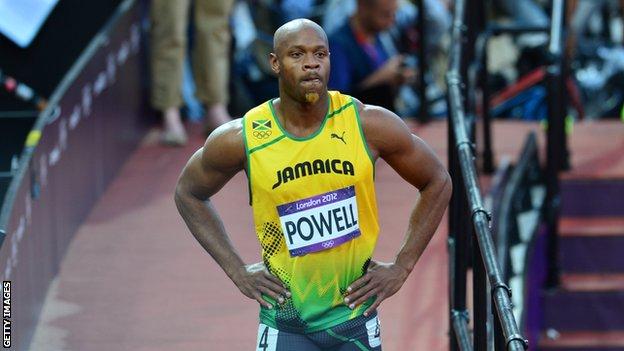 Life bans for athletes convicted of doping offences are not legal, the head of the World Anti-Doping Agency says.
Former Olympian Jamie Baulch is among those who have called for dopers to incur automatic life bans.
But Sir Craig Reedie says anti-doping penalties "must be proportionate".
Sir Craig Reedie
Born: 6 May 1941, Stirling, Scotland
Sport: Former international badminton player
Chairman of the British Olympic Association for 13 years to 2005
International Olympic Committee member since 1994
President of the World Anti-Doping Agency since November 2013
"Our advice was that [life bans] would be challenged and would not be sustainable in law," the Wada president told BBC Sport.
Wada instead agreed to a new code which will double the standard suspension for dopers from two to four years from January 2015.
"A four-year penalty will stand up in court and takes a person out of the cycle of an Olympic Games," said Reedie, who was appointed Wada president in November 2013.
"Not many athletes dope on their own," he added. "There is usually someone else involved, be it a coach, friend, manager or agent."
Asafa Powell facts
Personal bests:100m - 9.72 secs; 200m - 19.90 secs
Medals: Olympics: 4 x 100m relay - gold (2008); World Championships: 100m - bronze (2004, 2008), 4 x 100m relay - gold (2009), silver (2007)
But Baulch, who was retrospectively awarded gold in the 4 x 400m relay at the 1997 World Championships after American runner Antonio Pettigrew admitted to doping, believes the current sanctions are too lenient.
"These people should be banned for life," he told BBC Sport. "People like me lost out on being a hero for the day because of them.
"If people knew they were going to get banned for life, drugs would diminish. I get angry that the system allows people to come back after 12 months.
"I wish the sport would have the respect for the people who get cheated."
Scottish hurdler Eilidh Child and former 100m world record holder Donovan Bailey are among the athletes who have previously called for doping cheats to be automatically banned for life.
What is oxilofrine?
A stimulant drug banned by the World Anti-Doping Agency, the substance is an amphetamine found in some dietary supplements
It was developed to treat low blood pressure
The substance is thought to allow people to burn fat faster and lose weight, which is why it is present in some so-called sports nutrition supplements
It can also increase the rate at which the heart reaches its maximum performance during exercise
But Professor Wayne McLaughlin of Caribbean Toxicology told Powell's trial that oxilofrine "does not improve speed"
Tom Bassindale, a forensic toxicologist and doping expert at Sheffield Hallam University, says he has mixed feelings about Powell's return to the track.
"I'm a bit torn," he said. "If people have been taking something like EPO, my heart does sink to see them back in competition because they may still be benefiting from the effects.
"But a mild stimulant like oxilofrine may be less effective than caffeine. I don't like to see people breaking the anti-doping rules, but clearly some substances are more effective than others."
Powell was cleared to return to competition after the Court of Arbitration for Sport reduced his ban from 18 months to six months on Monday.
He tested positive, along with team-mate Sherone Simpson, at last year's Jamaican national championships.