NI athletes in Irish team for European Championships in Zurich
Last updated on .From the section Athletics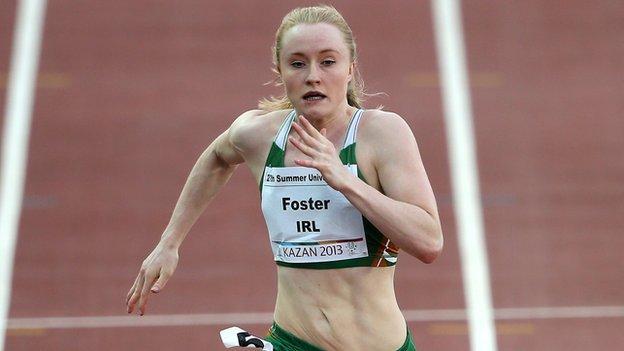 Several Northern Ireland athletes have been named in the Ireland team for the European Track and Field Championships in Zurich from 12-17 August.
Irish record holder Amy Foster will compete in the 100m, while Jason Harvey and Christine McMahon will contest their respective 400m hurdles events.
National champion Zoe Brown will be the sole representative in the pole vault.
Paul Pollock will be joined by St Malachy's pair Kevin Seeward and Tomas Fraizer for the men's marathon.
The 30-strong team for the championships includes Cork man Robert Heffernan, the reigning 50k World Walks champion.
A medal eluded Heffernan on two occasions at the 2010 Barcelona European Championship as he took fourth places in both the 20km and 50km Walks.
European number-three ranked Thomas Barr will take in the 400m hurdles, the 21-year-old from Waterford having recently smashed the Irish record for the event.
Mark English will make a debut European appearance in the 800m, with Brian Gregan, a finalist at the 2012 championships, running in the 400m.
Former double European cross country champion Fionnuala Britton will contest the 5000m and 10,000m at her fourth European Championships, which equals the Irish record for the number of appearances at the championship.
Pole-vaulter Tori Pena has taken the decision to withdraw as her season has not gone as planned.
Holywood's Ben Reynolds is not in the team as he hasn't run the 110m hurdles qualifying standard of 13.65 this year.
However, he could still be added to the team if he achieves the standard by 3 August.
"This team has medal potential and I will be looking for our key athletes to progress through the rounds and to make finals," said High Performance Manager Kevin Ankrom.
"For athletes like Christine McMahon these championships will form an integral part of their performance development towards Rio 2016 and beyond," he added.