Glasgow 2014: Disappointment for Zoe Brown in pole vault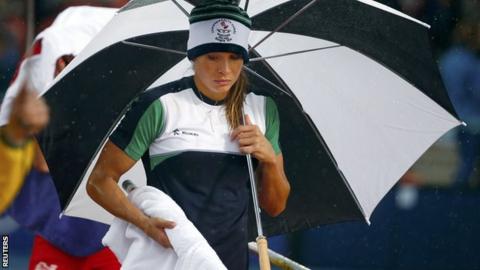 Northern Ireland medal hope Zoe Brown suffered huge disappointment in the women's pole vault at the Commonwealth Games as she failed to register a height in rain-lashed conditions.
The competition was held in horrendous conditions and the Antrim woman failed with three attempts at 3.80m.
Five of the 10 competitors failed at the same height.
Australian Alana Boyd cleared 4.50m to take the gold medal, with Sally Peake from Wales securing silver with 4.25m.
Persistent heavy rain made the surface treacherous for the final night of athletics action at the Games and the pole vault competition was delayed by 45 minutes as officials attempted to clear surface water.
Brown went into the event with genuine medal hopes as she had set the second best height this season of the 10 competitors with a mark of 4.45m.
The 30-year-old was unable to hide her disappointment after missing out on probably the best opportunity she will ever have to win a major championship medal.
"The warm up was very difficult and I took a few spills which affected my confidence," said the Antrim woman.
"In 16 years vaulting I have never experienced weather conditions like it.
"As my confidence was low I decided to go in for a low height of 3.80m to ensure that I at least cleared one height.
"This plan did not work out as the weather conditions were at their worst and it ensured that 60 percent of the field was eliminated."
To compound Brown's frustration, she did clear the bar on two of her vaults but landed on top of it to take it down.
"The conditions were dangerous at times. I did what I thought was right and I am very disappointed.
"Sport is very cruel at times and it is a very hard pill to swallow. The experience was bitter sweet as the support from the crowd was incredible."
A total of six athletes failed to record any height, but despite the conditions making the competition something of a lottery, defending champion and favourite Boyd emerged victorious.
England's Sally Scott and Alysha Newman of Canada tied for the bronze with 3.80m.
Brown, who set her Northern Ireland record last month, will now concentrate her efforts on the forthcoming European Athletics Championships in Zurich from 12-17 August.