Mo Farah was airlifted to hospital after bathroom collapse
Last updated on .From the section Athletics
2014 European Athletics Championships
Dates:
12-17 August.
Location:
Zurich, Switzerland
Coverage:
On BBC Two from 09:00 BST on 12 August; daily coverage, reports and interviews on BBC Radio 5 live and BBC Sport website
Mo Farah has revealed he had to be airlifted to hospital after collapsing following a training run.
"I had a tooth taken out and it got infected. I went for a run, came back and collapsed," said 31-year-old Farah.
"I was in so much pain from my stomach. I had to be airlifted to hospital."
He continued: "They thought something was going on with my heart."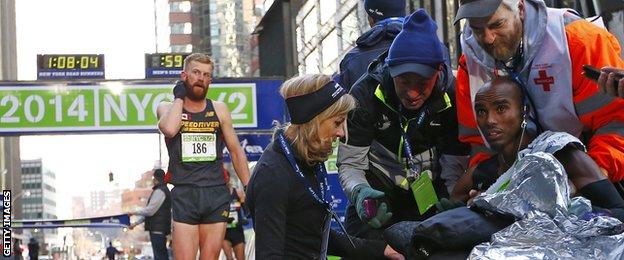 Farah, who collapsed at the end of the New York Half Marathon in March, said he was "completely knocked out" by his most recent scare.
"I had my phone in my pocket, so when I woke up I rang Cam [Levins], my training partner. He helped me up and got me on the bed," he said.
"It was crazy. I was in hospital [in Utah] for four days."
Farah, who will compete at the European Championships in Zurich from 12-17 August, added: "I had no-one there. I was in Park City by myself. We had to decide whether to get flights for [wife] Tania and the kids.
"I have been in pain - this was ridiculous. I couldn't take it. That is why they thought there was something going wrong with my heart."
Those fears were unfounded, although it cost Farah the chance to compete at last month's Commonwealth Games in Glasgow.
Farah's decision was greeted with dismay by some fans - unaware of the circumstances - who had bought tickets for the Games, expecting to see one of Great Britain's Olympic stars.
"It was scary at the time. But things happen and you deal with it," said Farah.
"I did not want to disappoint my fans. I knew people had bought tickets, but I wasn't ready."
He added: "I did one track session. Paula [Radcliffe] was timing me and she told me to stop. She had seen it. I wasn't right.
"Later on, Paula said I'd taken the easy option withdrawing from the Commonwealth Games, which is not fair as she'd seen me struggle.
"If I am going to turn up, I have to be 100%. I am not going to get beaten at home."
On Tuesday, Radcliffe said there had been a misunderstanding and that her supposed "easy option" criticism was a headline that had taken her words out of context.
"I've been one of his biggest supporters over the years and continue to be so," she told BBC Sport.
"I was disappointed when I saw that headline as well. I think what Mo's probably done is seen the headline and not read further down the article, which did twist it a little bit.
"I never said that he was choosing the easy option. What I said was that it was an easier race in Zurich certainly, but he also had more chance of being at the European Championships because he had longer to get over the problems."
Farah, who said he did not watch any of the Commonwealth Games on television as "it was too painful", is hoping to start making his mark on the track again in Zurich after a season in which his marathon debut, at London in April, ended in a disappointing eighth-place finish.
"The Europeans are not easy at all," he said. "Hopefully, the extra couple of weeks [of recovery time] have been good for me. This year I need to do something."