Dwain Chambers: Longevity, stress, doping & Euros 100m final

By Tom Fordyce
Chief sports writer
Last updated on .From the section Athletics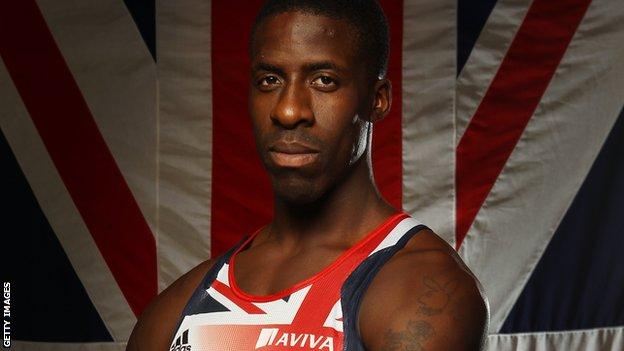 2014 European Athletics Championships
Dates:
12-17 August
Location:
Zurich, Switzerland
Coverage:
On BBC Two from 09:00 BST on Wednesday 13 August; daily coverage, reports, interviews on BBC Radio 5 live and BBC Sport website
Sixteen years, to a man who runs for 10 seconds, should feel an awfully long time.
Enough has happened to Dwain Chambers since his first European Championships, back in Budapest in 1998, to fill several lives over. And yet some things are just as they always were.
"I love the call room, the pressure that you feel. You want to vomit. You think to yourself, why am I here? Why do I put myself through this stress?
"You just want to get out of there. You can't face your reality. And that's the hardest thing to do. It's like your driving test and wedding combined. Am I doing the right thing?"
These are Chambers' record-equalling sixth Europeans. There are many in British athletics who wish his last had been Munich in 2002, when he won 100m and relay gold only to be stripped of both when he tested positive for a banned steroid the following year and was banned from competition for two years.
Why is he still going? Here are some answers you will hear: because there is nothing else he can do, because the sport could not ban him outright as it should have done.
Here are some others, more rooted in reality: because the cool kids of British sprinting could not beat the old stager at the British trials, because - even at 36 - he has a serious chance of another big medal. So which is true?
"I'm good at it," he says, after a long pause. "And because I'm good at it, I enjoy it. I get joy from the reaction to it all, I love the crowd cheering my name.
"If you enjoy that, why walk away from it? Especially now it's going well, now I've got the opportunities to get myself prepared.
"I'll hold onto it. I've still got the belief. The morning I wake up and think, 'I'm alright now', then I'll know it's time. But right now I still want to compete against the best in the world."
Chambers, as he always was, remains good company - affable, garrulous, maybe more guarded than he was as a 21-year-old world bronze medallist but still instinctively honest in conversation.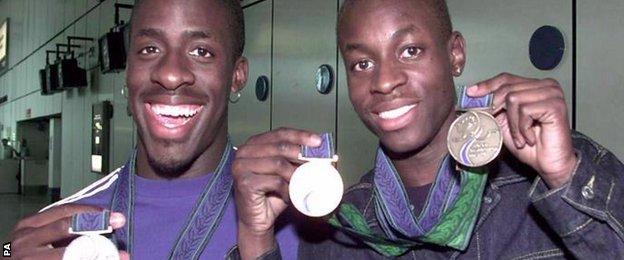 That last adjective will rile some people. What's honest in deliberately seeking an unfair advantage, in lying about it until caught, in cheating rivals of prize money and relay team-mates of hard-won medals?
This is the way it is for Dwain: black or white, right or wrong. There is seldom any room for nuance, for people to inhabit the grey areas in between.
Twelve years ago Chambers made a decision that damaged his sport, his team-mates and his family. He also, much more recently, climbed Mont Blanc for cancer charity Teens Unite.
In between he has kept coming back to run for his country, even after side-trips down dead alleys like the Hamburg Sea Devils and Castleford Tigers. He enjoys every race. When it is over he wants to coach. "I'll get my kicks out of helping other people. I'll get my reward from doing it that way."
Eight gold medals on Wednesday (in BST)
08:20:
Men's 20km race walk final
18:50:
Men's 10,000m final - featuring GB's Double Olympic and world champion Mo Farah
19:00:
Women's long jump final
19:27:
Women's 100m final
19:35:
Men's discus final
19:36:
Decathlon men's 1500m
20:34:
Women's 100m hurdles final - featuring GB's Commonwealth Games silver and world bronze medallist Tiffany Porter
20:49:
Men's 100m final - featuring GB's Dwain Chambers
The legacy of the choice he took as a 24-year-old is always with him regardless, whether on the track or at home.
Recently, for the first time, he sat down his kids - sons Skye, eight, Rocco, six, and three-year-old daughter Phoenix - and told them of his past.
"I'd rather it came from me," he says firmly. "And if they're not prepared for it…
"I just told them, 'Because of me, you're going to have to be very careful about how you do things in life'.
"They asked me why. I said I did x, y and z. They asked me why I did it, what it is. I had to go through it all."
How did that feel? There is another lengthy pause.
"Difficult. Because you could see the innocence in their faces. They want to believe their dad is perfect.
"But I say to them, be careful what you wish for. When I say that, I mean, I liked what I got, but I didn't like what I got with it.
Fastest times to win European 100m gold

9.99 secs

Francis Obikwelu (Por)

Gothenburg 2006

10.04 secs

Darren Campbell (GB)

Budapest 1998

10.06 secs

Francis Obikwelu (Por)

Munich 2002

10.09 secs

Christophe Lemaitre (Fra)

Helsinki 2012

10.11 secs

Christophe Lemaitre (Fra)

Barcelona 2010
"I liked the fame, the glory, the success, but I didn't like the person it made me become.
"It was very hard. They're still very young. They didn't understand.
"It will come up again. There will be instances in life when they're going to get pulled up on it. It's going to happen.
"So I always say to them, you've got to be very careful how you react to people. Because of me. I've told them that their life will be hard, because of me."
You might listen to that and feel little compassion. Adults have to be responsible for their own actions. You might alternatively think back to mistakes you made early in your own life, and feel that there is a time to forgive and forget.
Or you might be somewhere in between: hating what doping has done to sport, sympathetic to a man who wished his life hadn't changed on one mighty lapse and who has shown remorse for a long time since.
Chambers gives a half-smile. "It's like in the Matrix: do you take the red pill or the blue pill?
Former Olympic heptathlon champion Denise Lewis:
"Dwain's savouring his athletics now he's coming towards the end of his career. He knows there won't be the next Europeans for him."
"It's curiosity, and I was curious at the time. I never realised the magnitude of the mistake or the disruption it would cause.
"I didn't know. If I could have looked in a crystal ball and seen what happened, I'd never have made that decision.
"Life is a long motorway. There are many exits, and I've chosen to take lots of them. Which one was the right one for me? Finding out is what life is all about.
"I chose an exit from the motorway that didn't work for me. If I drove that same road again, I'd read the description on all the signs. I'd choose a different exit. But I went through it.
"It helped getting it off my chest. It hasn't been easy, because that's not a conversation many dads have with their kids. Most kids will never know their father's past. I don't know my dad's past.
'I've done it, but it's not over. Only because they still don't fully understand. Phoenix ain't got a clue. They won't know until they go into sport, if they choose to go into sport. But they'll be wiser than me."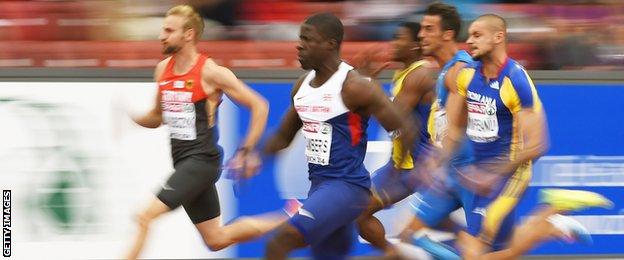 Here in Zurich, Chambers is pleased just to be running. In winning his heat on Tuesday night he looked comfortable, even if Frenchman Jimmy Vicaut - the only man in the field who has gone under 10 seconds this year - looked the class act, easing up in 10.06 secs, the equal third-fastest time in the championships' long history.
Vicaut is 14 years younger than Chambers. His season's best is 0.17 secs faster. Chambers is content with those odds.
"I just want to try to do the best I can in every opportunity I have left. I'm not going to have many. It's more precious now. The clock's ticking.
"To me it doesn't matter if I win it. I just want to get on the podium. Again. If I can win it that's even better.
"But that satisfaction, getting that buzz - 'I can still compete'… to come away from it smiling. Because it could be so different. I might not be here."
He smiles again.
"I do have a dream. I want my kids to be watching me at the Worlds in 2017, in London.
"That would be a good send-off. Down the road from where I grew up. Whether it's the 100m, or the relay, that would be the holy grail for me.
"But I'm better now. I've come back from it all. Through the storm, through the tumble-dryer. I feel good. I'm alright with life."