Rio 2016: Jo Pavey considers competing at Olympic Games
Last updated on .From the section Athletics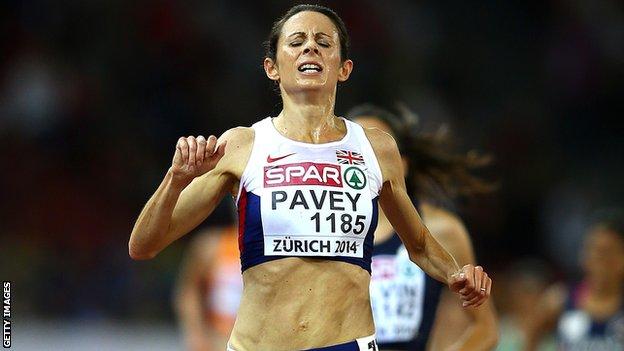 European Championships record-breaker Jo Pavey has refused to rule out competing in the 2016 Rio Olympic Games, when she will be 42.
Pavey, 40, became the oldest female gold medallist at the Championships by winning the 10,000m on Tuesday.
Asked if she could race in Rio, Pavey told BBC Radio 5 live: "Yes definitely.
"Before this year I thought 'how long will I carry on?' But I've been pleasantly surprised that I've still been able to be competitive."
"I've definitely got no thoughts of retiring yet, I'm still enjoying it," she added.
Jo Pavey medals
2014 European Championship gold, 2012 European Championship silver, 2006 Commonwealth silver, 2014 Commonwealth bronze
Pavey's achievements were all the more remarkable considering she had her second child only 11 months ago.
"I've tried at this sport for so many years and for it to come now, being a 40-year-old with two young children, it seems quite funny really.
"But I'm glad I kept going, I feel so happy in my personal life and that has definitely given me a lot of motivation."
At the UK Championships in May the Devon athlete, who is also competing in the 5,000m in Zurich, won her first race since giving birth for the second time and easily secured a place in the European Championships squad.
"I didn't know if I would even qualify for the Championships because I was still breastfeeding at the start of April. My times at the track were pretty bad but I thought I would just keep plugging away."
At last month's Commonwealth Games in Glasgow she claimed the bronze medal behind Kenyans Mercy Cherono and Janet Kisa.
"I can enjoy my running now and I don't get stressed about training," she said. "I train really hard and I think being really busy and keeping on the go has given me more endurance.
"When I go out there and race I think I have got to make it worthwhile but I am just enjoying it and I feel really fortunate."