European Championships: Injured Paul Pollock misses marathon
Last updated on .From the section Athletics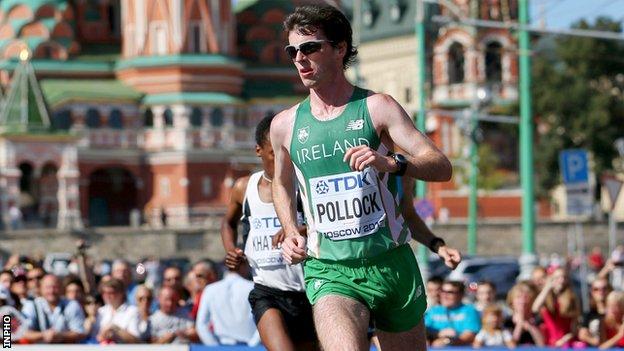 Paul Pollock was a late withdrawal from the European Championship marathon because of injury as Sean Hehir was the top Irish finisher in 20th place.
Northern Ireland man Pollock, 21st at last year's World Championships, pulled out because of a hip injury.
Clare man Hehir clocked 2:17.59, 24 seconds outside his personal best, after running a steady race in Zurich.
Northern Ireland athletes Kevin Seaward [2:20.30] and Thomas Frazer [2:22.33] finished 28th and 35th.
St Malachy's athlete Seaward set his personal best of 2:18.46 in Manchester earlier this year while his fellow Belfastman Frazer ran his fastest marathon in Berlin last September when he clocked 2:17.45.
Italy's Daniele Meucci won the title in 2:11.08 ahead of Poland's Yared Shegumo [2:12.00] and Russian Alexey Reunkov [2:12.05].
Poland's Marcin Chabowski, who led for most of the race, slumped in the final stages and abandoned shortly before the finish.