European Championships: GB's golden group can get even better

By Tom Fordyce
Chief sports writer in Zurich
Last updated on .From the section Athletics
The day before these European Championships began, Great Britain's performance director Neil Black told me he was "absolutely certain" that his team were going to beat their medal tally of two years ago (seven) but not get close to the total from Barcelona 2010 (six golds, 19 in all).
It was almost the only thing anyone in GB kit got wrong all week.
In leaving Zurich with a remarkable 12 golds - three more than had ever been won before - and an overall tally of 23 (four more) this British team has made unexpected history.
Olympic champions Mo Farah and Greg Rutherford, despite injury-hit summers, delivered as senior stars should. Long-serving stalwarts like Jo Pavey and Martyn Rooney finally experienced a redemptive reward. Around them, a group of young stars put in breakthrough performances.
Two years out from the next Olympics, a year from the World Championships in Beijing, how excited should British supporters be?
Recent context shines a favourable light. Two years ago in Helsinki, British athletes won only seven medals in total - the team's smallest haul in more than 30 years.
That was at least skewed by proximity of London 2012; only those athletes looking for qualifying times or a late sharpener travelled to Finland.
In Gothenburg eight years ago, Britain won just one gold (and that from a relay) and finished 11th in the medal table, below comparative minnows like Belarus and Portugal.
Record medal haul
Britain's haul of 23 medals surpasses the previous record of 19 from the European Championships in Barcelona four years ago
The team's total of 12 golds beat the previous best of nine gold medals set in Budapest in 1998
Britain finished top of the medal table for just the third time in the championships' history
Zurich was not an unqualified success. Outside the men's long jump, not a single British athlete made the top seven in a field event final.
But, once 40-year-old Pavey's emotional 10,000m gold had lit the fuse, the young speed merchants in the team carried the torch forward in unprecedented style.
Across all sprint events (individual, hurdles and relays) British men took five golds, two silvers and a bronze in seven races. British women won three golds, a silver and a bronze.
For the first time since 1998 a British male won European 100m and 200m gold. For the first time in 32 years a British woman made a European 200m final, for the first in 40 years a 100m final.
Farah became the most successful non-relay athlete, male or female, in the championships' long history. He now has five European golds - more than compatriots Steve Backley and Colin Jackson or continental legends Fanny Blankers-Koen and Valeriy Borzov.
Rutherford, challenged by the great Lynn Davies to match his record from 1964-6 of holding Olympic, Commonwealth and European titles plus the British record simultaneously, proved once again that he performs when it matters most. Lucky, as his detractors claimed in 2012? Anything but.
Yet it was the display across the week of the team's young female sprinters that epitomised all that was brightest about Black's six Swiss days.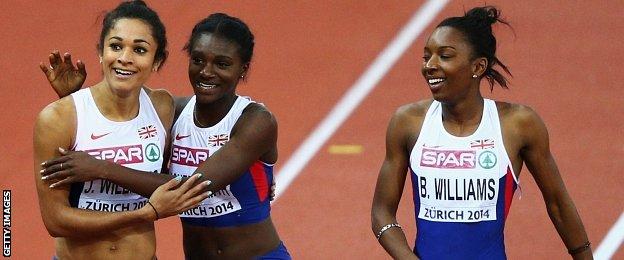 Jodie Williams' time for 200m silver was the fastest by a British woman since 1984. Having had no British finalists in the event since 1982, Britain had three women racing for the first time in more than half a century.
In the final race of the week, a 4x100m quartet with an average age of 21 was led home by 18-year-old Desiree Henry to smash a national record that had stood for 34 years.
"It's been great - genuinely Britain's best ever Europeans," says former European champion and now BBC commentator Steve Cram. "Now we have to use this talent and momentum.
"France missed out on some big gold medal chances through sprinter Jimmy Vicaut and 800m man Pierre-Ambroise Bosse, among others, and in contrast British athletes were very good indeed at converting chances into medals.
"No-one should underestimate the challenge of now going on to win medals at next summer's Worlds or the Olympics in Rio.
"But with the more depth we have in some events, the more it will drive the best of the talent in - into the world's top eight, the top five and then onto podiums."
Great Britain's sprint stars

Adam Gemili, European 200m champion, 20

Dina Asher-Smith, World Junior 200m champion, 18

Chijindu Ujah, European junior champion, 20

Bianca Williams, Commonwealth 200m bronze medallist, 20

James Dasaolu, European 100m champion, 26

Jodie Williams, former World Junior champion, now European and Commonwealth 200m silver medallist, 20

Richard Kilty, World Indoor 60m champion, 24

Ashleigh Nelson, European 100m bronze medallist, 23

Asha Philip, former World Youth 100m champion, 23
The standard across the nations at the championships was uneven.
While there were several outstanding individual performances - Sandra Perkovic producing the longest discus throw in the world since 1992, heptathlete Dafne Schippers experimenting with sprints and running the fastest 200m by a European woman in 19 years, Poland's Anita Wlodarczyk winning hammer gold with the third longest throw in history - only one European record was broken, despite a track that was clearly quick.
This may not be an entirely bad thing. To tweak one of Lance Armstrong's more famous lines, extraordinary performances demand extraordinary proof.
As long as convicted drugs cheats like Justin Gatlin and Tyson Gay can race each other without event organisers batting an eyelid, athletics will have a doping problem. But with the levelling of performances comes optimism: if it looks like hard work, it probably is.
Russia, for so long the dominant European nation, ended this edition down in fourth in the medal table. Only one Russian man won gold, only two women added to that total.
Compare that to four years ago, when nine Russians won gold as they topped the table, or to the previous edition when they won 12 golds.
Something has changed. And whatever it is, it's helping Britain.
"There is definite evidence that the continuation of programmes put in place in Britain for the 2012 Olympics is paying dividends in a way that other European nations can't match," believes Cram.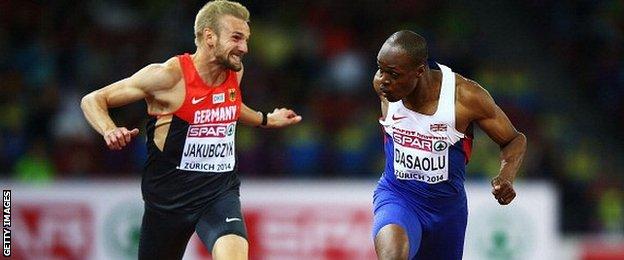 "The support now available around young athletes, the medical and sports science back-up, the money invested into relays - at this level, it's making us very dominant.
"The investment, I think, is also coinciding with a drop in standards in European athletics, something which has been disguised a little by the number of athletes transferring to European nations.
"The sport's governing bodies have got to try to ensure that the sport is as well supported in traditional hotbeds as it used to be.
"Where were Italy this time? Where were Spain?"
While the British team sparkled, Zurich sometimes struggled to match. For a city with such rich athletics heritage to produce such small crowds, even on the final weekend, was chastening.
Only when Swiss 400m hurdler Kariem Hussein was roared to an unexpected gold did the Letzigrund come to life as it has for so many years during its classic Weltklasse meet.
The Britons in the stands didn't mind one bit. Two years out from Rio, there is a confidence in the camp that is impossible to ignore.
"We don't think of dropping batons any more," said Black afterwards. "We think of how fast we are going to run and of winning medals, and that's what the guys have demonstrated.
"We are going global from here onwards. The next three years are most important years, but these guys know how to do it.
"This is a critical phase in the process through to Rio and they've grabbed it, converted it, smashed it. We are all absolutely excited and chuffed to bits with it."