Nigel Holl upbeat about future Scottish athletics medal hopes

By Kheredine Idessane
BBC Scotland
Last updated on .From the section Athletics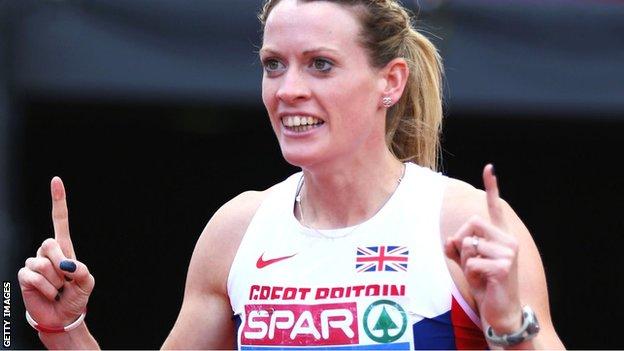 Scottish Athletics chief executive Nigel Holl believes the country can look forward to producing more European Championship medal winners like Eilidh Child, Lynsey Sharp and Chris O'Hare.
Child won 400m hurdles gold and 4x400m relay bronze, while Sharp won silver in the 800m and O'Hare took bronze in the 1,500m for Great Britain in Zurich.
He said: "There are many other young athletes - Laura Muir, Eilish McColgan, Beth Potter, Guy Learmonth.
"They stepped up in Glasgow 2014."
Holl, who has been in his post at Scottish Athletics for four years, is sure "we'll see them in championships moving forward".
Muir, 21, and Potter, a year older, were in British vests in Zurich. Muir did not make the final of the 1,500m while Potter finished 14th in the 10,000m race.
"The clubs are doing a stunning job with young people across Scotland who want to get into athletics," Holl told BBC Scotland.
"That's where Lynsey, Eilidh and Chris started out, joining the likes of Edinburgh AC or Pitreavie Athletics Club.
"There are young people joining athletics clubs across Scotland today who have the potential to be the next Chris O'Hare or Eilidh Child and we've got a thousand of them in Aberdeen next weekend at the Junior National Championships.
"When you see the strength of the sport at that level I know the future is very positive."
Holl praised Child and Sharp for the way they had handled the pressure of performing in the Glasgow Commonwealth Games, where each won silver.
"They are all doing a fantastic job. They delivered [at Hampden]. They then had less than 10 days to go and perform in Zurich and they did it again on the world stage at the European Championships.
"That is so impressive and it is optimistic for the future."
Holl likened O'Hare's surge for the line in the 1,500m in Zurich to the feats of Seb Coe, saying the West Linton athlete's bronze medal was "well deserved".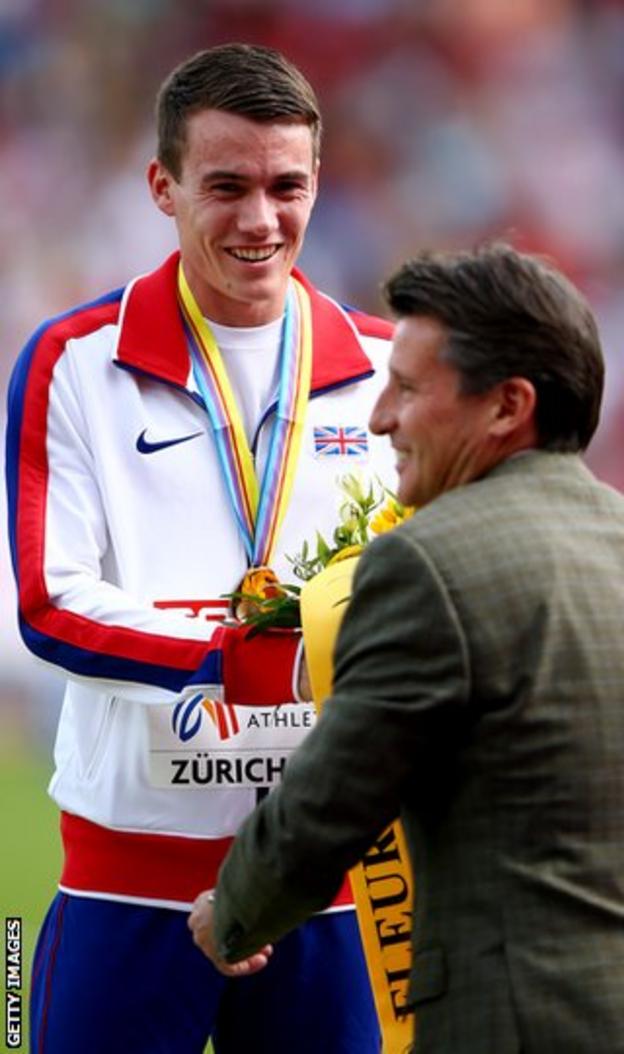 The runner himself said it was "really cool" to have received his medal from Coe, and that it added "a bit of extra emotion to the already emotional experience".
O'Hare, 23, told BBC Scotland: "I'm still annoyed that it wasn't the gold because that's always my attitude. I'm always going to every race to win it, whether it's realistic or not.
"To come away from any 1,500m race 100% happy is almost impossible. Even if you win you are trying to get a faster time.
"But I'm definitely happy with the result.
"This year has been a bit of a mess with a hamstring problem. It's not been easy.
"I'm looking forward to moving to Boston and being full-time with my new coach Terrence Mahon and being significantly better next year."
O'Hare's bronze was the first time Britain had won a medal in the 1,500m since Steve Cram won gold in Stuttgart in 1986.
"Scottish and British athletics need a bit of a kick-start and this is it," he said of the four medals won by Child, Sharp and himself.
"The kids need to see that is is possible to win medals at a major championships being a Brit, especially in events like Lynsey in the 800m and myself in the 1,500m.
"For so long we haven't had anybody doing it so it's important for the kids to see that it's possible."
While O'Hare has proved it can be done, his rise in the sport has been aided by his time abroad.
He spent four and a half years competing and studying at the University of Tulsa in Oklahoma and so his decision to return to the United States should come as no surprise.
He said of training in Scotland: "The facilities are there but it's other things that are holding the athletes' development back.
"There is not a huge amount of money to support them.
"If you have to work a full-time job it's just not do-able to be a major championship medallist. There's not enough time in the day to do it all and be fresh for sessions."