Athletics: Chris O'Hare lets mind and body heal before Boston move

By Keir Murray
BBC Sport Scotland
Last updated on .From the section Athletics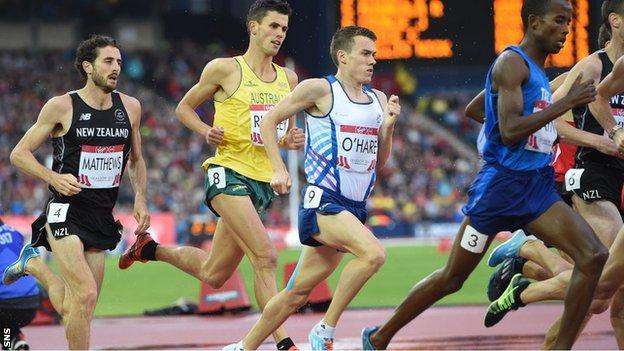 Scottish middle-distance runner Chris O'Hare is easing himself back to full fitness before heading to the United States for the next step in his career.
The European 1,500m bronze medallist, 23, is home in West Linton resting a broken toe after a summer of racing for Scotland and Great Britain.
He told BBC Scotland: "I've a fracture on the sesamoid bone beside my big toe.
"Most of the pain is coming from bone marrow oedema. It will take a while to heal but the season has finished."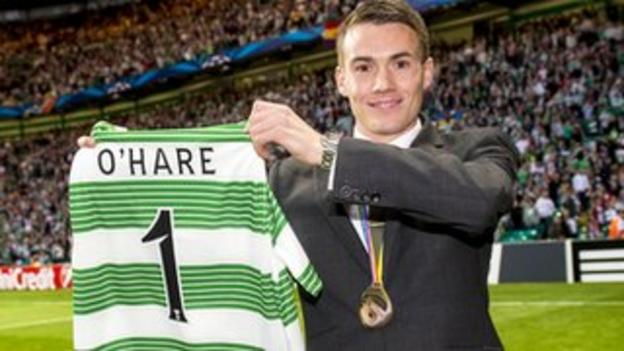 O'Hare was suffering from a hamstring injury earlier in the season but it transpired that the complaint was related to him compensating for the damage to his toe.
He managed to cope with the pain and at the Commonwealth Games in Glasgow he came sixth in the 1,500m final, which was won by the Kenyan James Kiplagat Magut.
After a short break he then headed to Zurich and won Britain's first European Championships medal in the 1,500m since Steve Cram and Seb Coe in 1986, storming up the finishing straight to claim bronze.
Reflecting on his injury, he said: "Once I accepted that my toe was going to be sore for the whole season I just got on with it. There was not much I could do about it.
"With an oedema, there's a blood rush to the inside of the bone when it's injured.
"Because I haven't taken any time off to let it dissipate it has just stayed there. It will take a while longer to heal.
"I'll have to take another couple of weeks off, do some bike riding, some swimming, some non-impact exercise, just to get a little bit of fitness back before I start running."
O'Hare, who was based at the University of Tulsa for four-and-a-half years, has been busy catching up with family and friends, encouraging young athletes around clubs in Scotland and making a half-time appearance at Celtic Park to show his European medal to his fellow fans.
"It's been pretty hectic but I wouldn't have it any other way," he said.
"We went through a two-week spell of mass emotion, really, having the Commonwealth Games, then I got engaged the day after the closing ceremony [to his American girlfriend Meredith Burns].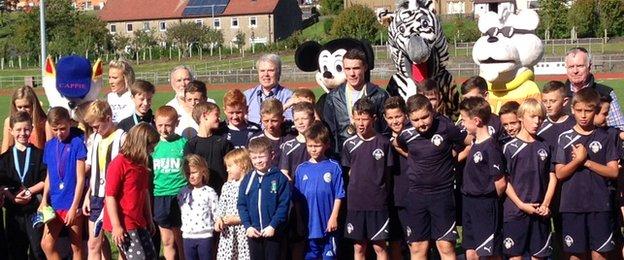 "We had a week of celebrating that and then it was into the camp for the Europeans."
With his studies in Oklahoma complete, O'Hare has been able to benefit from a commercial deal and he will return to America in the coming weeks to work with coach Terrence Mahon towards next year's World Championships and the Rio Olympics.
He said: "Terrence is a great coach. It's a good set-up with good facilities so I can't really ask for much more.
"There were some options that I had in the UK but I love America. The coaching set-up in Boston was by far the best for me."
Mahon is the former lead endurance coach at UK Athletics, and in his short time there worked with O'Hare's compatriot Lynsey Sharp.
O'Hare added: "I had worked with him in Barcelona at the holding camp and then in Moscow at the World Championships.
"He was saying 'keep me in mind because we've got this new group starting up and we would really like you to be part of it'.
"Once we figured out the financial side of it, it was all good.
"Throughout the autumn we'll do the normal high-mileage long work-outs to get ready for cross-country, even though I won't really race cross-country.
"I might do a couple of road 5Ks or road 10Ks just to take my mind off training for a day or two.
"We'll get a good indoor season in Boston and the north-east, take a break and get ready for the outdoor season."