Roger Harkins appointed director of coaching at Scottish athletics
Last updated on .From the section Scotland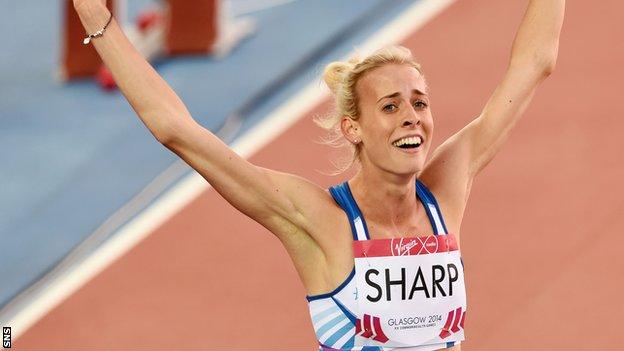 Scottish Athletics has appointed Rodger Harkins as their new director of coaching.
The 54-year-old Scot, who built his reputation as coach to triple Olympian Lee McConnell over a number of years, will start in post early in October.
Harkins has been appointed following the impending departure of Northern Irishman, Stephen Maguire.
Maguire is taking up a new position with UK Athletics with responsibility for sprints and relays.
Scotland achieved their best-ever Commonwealth Games performance in medal terms at Glasgow 2014, and won 67 medals at the British Championships at U20/U23 and Senior level over the past two summers.
Harkins has already been employed by Scottish Athletics on a part-time basis working on relays and handled the Hampden build-up for Scotland's 4 x 400m relay teams.
Nigel Holl, chief executive of Scottish Athletics said: 'The process of replacing Stephen was a good challenge.
"He has excellent coaching pedigree, of course, and has strong links himself to UK Athletics.
"He has a vision, a passion, and a determination to see Scottish coaches and Scottish athletes succeed - on the biggest stages possible."
Harkins competed at international level in triple jump and 400m hurdles and has coached athletes to the last eight Commonwealth Games.
"I think it is a very exciting time for the sport in Scotland," said Harkins. "We have had a home Games which captured the imagination and a number of athletes proved they could perform at that level."