Lord Coe: Justin Gatlin nomination a 'big problem'
Last updated on .From the section Athletics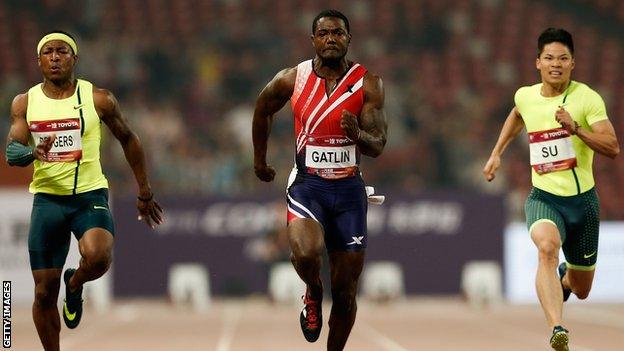 Lord Coe has admitted having "big problems" with the nomination of Justin Gatlin for World Athlete of the Year.
The sprinter, 32, who has served two doping bans, is one of 10 on a shortlist announced by the International Association of Athletics Federations (IAAF) last week.
This summer Gatlin ran the fastest 100m and 200m by a man in his thirties.
"What would you say if I said I felt comfortable about it?" said Coe, an IAAF vice-president.
"The only thing I would say is he is entitled to compete; but I'm not particularly comfortable about it.
"I think you'd be surprised if I said I was sanguine about it - personally I have big problems with that."
Coe, who is favourite to take over as president of the world athletics' governing body next year, was speaking at the Securing Sport 2014 conference.
The double-Olympic champion, who chaired London 2012's organising committee and is the current chairman of the British Olympic Association, has never made any secret of his belief that cheats should be banned for life.
But he said in London that he accepted "that particular train has left the station" and he realised lifetime bans would be unenforceable from a legal point of view.
But he reiterated his support for the IAAF's unsuccessful attempt to persuade the International Olympic Committee and World Anti-Doping Agency to increase bans for first-time offenders from two years to four years, a position the IAAF has now unilaterally adopted.
Top 100m times in 2014

1.

Justin Gatlin

9.77

Brussels (5 September)

2.

Justin Gatlin

9.80

Lausanne (3 July)

3.

Justin Gatlin

9.82

Port of Spain (21 June)

4.

Richard Thompson

9.82

Linz (14 July)

5.

Justin Gatlin

9.83

Rieti (7 September)

6.

Justin Gatlin

9.86

Ostrava (17 June)

7.

Justin Gatlin

9.87

Beijing (21 May)
Coe's comments came on the day the BBC reported new research that proves muscles retain the benefits of anabolic steroids for decades after they were taken.
This casts a dark cloud over Gatlin's achievements this year. The American has gone unbeaten, running six of the season's best 100m times.
This, however, comes after he failed drugs tests in 2001 and 2006, the second of which initially brought him an eight-year ban that he was able to halve on appeal.
His return in 2011 was greeted with widespread unease.
Many in the sport were disappointed when the 2004 Olympic champion won a silver medal at London 2012. And that disappointment has now deepened as he emerges as a real contender for victory in Rio in two years' time.
Germany's Olympic discus champion Robert Harting reacted to Gatlin's inclusion on the IAAF shortlist by asking for his own name to be removed from it.
"The effect of anabolic steroids is certainly not transient," said Coe.
"I think sanctions have to take into consideration the extent of the effect that they can have on a career even when the athlete is clean."
An email poll for the IAAF prize closes at 23:00 BST on 16 October, when the three leading men and women will be announced and put forward for a vote by the Council of the International Athletics Foundation. Men's and women's winners will be revealed at the World Athletics Gala on 21 November.