Dutee Chand begins competition ban appeal
Last updated on .From the section Athletics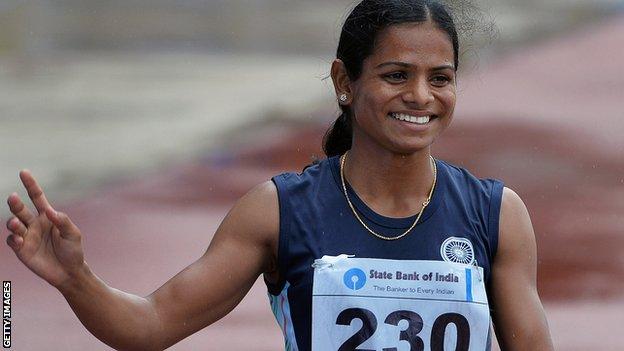 Indian sprinter Dutee Chand has formally started a Court of Arbitration for Sport (Cas) appeal against her indefinite ban from competition.
But campaigners have rallied around the Indian champion, pointing out that her elevated levels of testosterone are entirely natural.
"Each athlete is unique," said Chand's advisor Dr Payoshni Mitra.
"Dutee comes from very humble beginnings. She has had to overcome the fact that advanced training facilities, nutritious food, and other infrastructure were not readily available to her when she began to train.
"In my view, screening athletes' eligibility based on these socioeconomic factors would be as arbitrary as the policy we are challenging."
Dutee Chand's fast lane to controversy
The third of seven children to a weaver couple from the state of Odisha, Dutee is born on 3 February, 1996
Becomes Indian national under-18 champion for 100m when she clocks 11.8 seconds in 2012
Wins a 200m bronze at 2013 Asian Games and is first Indian to reach a global sprint final at the World Youths, coming sixth in 11.62 seconds
Claims 100/200 double at Asian Junior Athletics Championships, prompting the Athletics Federation of India to ask for a gender test in July
Chand's appeal is the first to challenge rules the International Association of Athletics Federations (IAAF) introduced in the wake of the Caster Semenya affair in 2009.
The South African teenager was asked to take a gender test shortly before winning the 800m at the 2009 World Athletics Championships in Berlin.
Semenya subsequently returned to the sport, winning a silver medal at London 2012, but only after she was subjected to appalling media scrutiny. She has also never run as fast as she ran as an 18-year-old.
Speaking at the Securing Sport 2014 conference in London, IAAF vice-president Lord Sebastian Coe denied that the international federation had got its policies wrong on female athletes with high levels of naturally-occurring testosterone.
"No, the IAAF has not got this wrong, but nor am I saying this is a simple walk in the park. It really isn't," said Coe.
"The problems we had around Caster Semenya were a huge issue for us, but I would back our medical team, which is headed up by Arne Ljungqvist - and there is no greater authority than him on this.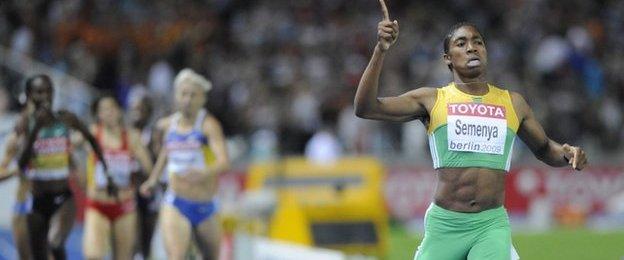 "But this is not easy. First, there are serious medical issues unless you tackle these challenges. Secondly, you run the risk of mutating times and sport in a way that might be an inhibiting factor for men and women to take up the sport.
"But if I go back to the Caster Semenya situation, it should have been headed off at the pass long before the World Championships."
Chand's case has attracted worldwide attention, with numerous experts claiming the IAAF's "hyperandrogenism regulations" are unfair and unscientific, as they are based on genetic traits and on the assumption that high levels of naturally-occurring testosterone are a key factor in athletic performance.
A press release announcing Chand's appeal stated that the regulations "have been questioned from a scientific, ethical and medical perspective", and highlights the fact that they require athletes like Chand to "undergo interventions consisting of drugs or surgery that have potentially serious side effects".
These "interventions" include hormone suppression therapy and "feminising surgery" that campaigners have likened to "genital mutilation". One expert told the BBC that these athletes are left in a "post-menopausal state".